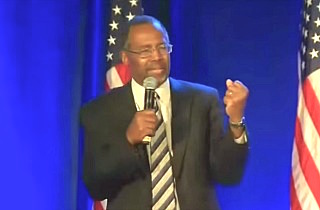 Dr. Ben Carson wants high-power Republicans to know that despite his many over-the-top quotations, he is not "crazy" and deserves a shot at running for president on the party's ticket.
Speaking before the Republican National Committee's winter meeting Thursday in California, the famed-neurosurgeon-turned-conservative-icon dismissed his many controversies as having been ginned up by "the liberal media."

Among the particularly divisive claims he believes have been overblown by media: Calling Obamacare "the worst thing that has happened in this nation since slavery"; suggesting last year's Veterans Affairs scandal was a "gift from God"; and saying present-day America "very much like Nazi Germany."
"I stand by those" remarks, Carson told the crowd, according to National Journal. "I don't think there's anything crazy at all."
Of course, the doctor's unscripted speech wasn't without its own controversial remarks. More from the Journal report:
At one point, after discussing the bravery of America's founding fathers—who were "willing to die for what they believed"—Carson said the country has lost that sense of urgency. Meanwhile, he argued, enemies such as the Islamic State have gained it.

"They've got the wrong philosophy but they're willing to die for what they believe," Carson said of ISIS, "while we're busily giving away every value and every belief for the sake of political correctness."

Carson, suddenly realizing the implications of his statement, quickly added that the media would take his remark out of context. "They are just so ridiculous," he said of the reporters in back of the room.
Carson has repeatedly teased the possibility of a presidential run, recently telling CBN he feels "the fingers of God" pushing him into the race. Fox News ended his contributor contract last year shortly before he debuted a 40-minute infomercial introducing himself to wider audiences.
[Image via YouTube/screengrab]
— —
>> Follow Andrew Kirell (@AndrewKirell) on Twitter
Have a tip we should know? tips@mediaite.com