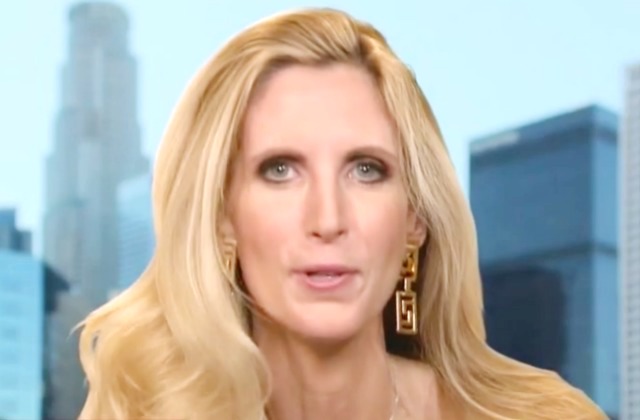 On Wednesday, administrators at the notoriously liberal University of California, Berkeley cancelled a planned lecture by controversial author Ann Coulter.
The school's vice chancellors claimed that the institution was "unable to find a safe and suitable venue for…[the] planned April 27 event," according to a Wednesday article from The Hollywood Reporter.
Coulter still plans to be there, however, telling THR that her speech "will go on," despite the cancellation:
Coulter told THR that before they canceled her, Berkeley administrators insisted that she agree to a list of demands prior to her engagement, and that she accepted their terms.

"I've acceded to all their silly demands, which they thought would end it. When I said, 'yes, yes, yes,' they canceled anyway. No more clear-cut proof that taxpayer-supported universities will not allow conservative speakers," Coulter told THR.
The move comes less than a week after the university threw up enough obstacles to force the cancellation of a scheduled lecture by former radical leftist turned conservative, David Horowitz.
Both events were planned by Berkeley's College Republicans. The administration pointed to the radical left's riots outside a lecture by Milo Yiannopoulos as the main reason why it wasn't "safe" to hold the Horowitz and Coulter lectures on campus.
Coulter posted a series of tweets on Wednesday blasting both the Berkeley staff and the San Francisco Chronicle's coverage of the cancellation:
FAKE NEWS! @sfchronicle reports vague forces behind UC-Berkeley canceling my speech. (Which will go on.) https://t.co/0xbftl8WO0

— Ann Coulter (@AnnCoulter) April 19, 2017
No school accepting public funds can ban free speech. https://t.co/EQsiAEWPpW

— Ann Coulter (@AnnCoulter) April 19, 2017
I acceded to Berkeley's every silly demand (never made of lib speakers). Called their bluff & they canceled anyway. https://t.co/EQsiAEWPpW

— Ann Coulter (@AnnCoulter) April 19, 2017
Instructing Berkeley student group to spare no expense in renting my speaking venue – part of my legal damages. https://t.co/EQsiAEWPpW

— Ann Coulter (@AnnCoulter) April 19, 2017
[image via screengrab]
Have a tip we should know? tips@mediaite.com