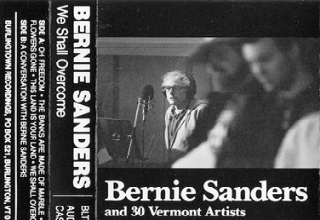 Before he was Congress's most outspoken "democratic socialist," Bernie Sanders was a Vermont mayor who — surprise! — recorded an album of folk traditionals.
Vermont's Seven Days blog unearthed these delightfully bad recordings from 1987, which feature Sanders' Brooklyn deli-counter-style Sprechgesang voice backed by several dozen state-based musicians forming a massive choir.

These late-'80s renditions of classics like "We Shall Overcome" and "This Land Is Your Land" are about as dated as you'd expect, with an calypso-like muzak bounce to the backing tracks. At some points, it sounds like Bob Dylan's Street Legal on a very bad mushroom trip; at others, it sounds like a karaoke video your Uncle Bernie made at your mid-'80s Bar Mitzvah.
-RELATED: The Herman Cain Gospel Album You've Been Waiting For Is Finally Here
The album's curator, Todd R. Lockwood, sheds some insight to the project in an interview that is well-worth the read. The basic gist: Sanders had no sense of rhythm or melody, so they recruited a bunch of musicians to make it a "We Are the World"-like event.
Looking back, Lockwood said, "Part of it seems a little preachy now, but I think it's a pretty cool project." He added: "I don't see any reason why he would be embarrassed to have it out there. When you listen to what he's saying, a lot of the message is exactly what he's saying now — the one percenter stuff. Its been in his repertoire for a long time."
Listen to the full album below:
— —
>> Follow Andrew Kirell (@AndrewKirell) on Twitter
Have a tip we should know? tips@mediaite.com