Bernie Sanders To Supporters in DNC Speech: This Election is Not About Hillary Clinton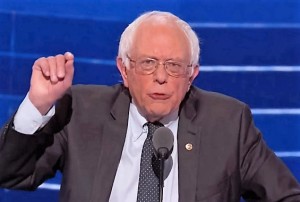 After a night that featured many of his supporters in prominent speaking slots, and some of his supporters making their presence known in other ways, independent Vermont Senator and Democratic presidential runner-up Bernie Sanders took the stage at the Democratic National Convention in Philadelphia, to thunderous and extended applause. His supporters were so raucous and exuberant that Sanders had trouble getting very far in his speech, in which he spent the first several minutes praising his supporters, and telling them he "look(s) forward to your votes at tomorrow night's roll call!"
After about five minutes of easing his fans into the bathwater, Sanders finally got around to mentioning Hillary Clinton, but even then, it was to tell them that this election isn't about her, or any other candidate, but about "the needs of the American people."
Senator Sanders cannily spent the lion's share of his speech on applause lines that played well with the entire crowd, including an extended riff in which he thanked President Obama and Vice President Biden, and then pivoted to veiled shots at Donald Trump. About ten minutes in, Sanders finished the windup and delivered the pitch:
By these measures, any objective observer will conclude that based on her ideas and her leadership, Hillary Clinton must become the next president of the United States!
The line was met with sustained applause, as well as some chants, as Sanders continued to present the election as a choice between Donald Trump and Hillary Clinton. Unlike other speakers, folks who tried to disrupt Bernie's speech with chants were unable to get any traction over Sanders' trademark delivery.
Have a tip we should know? tips@mediaite.com