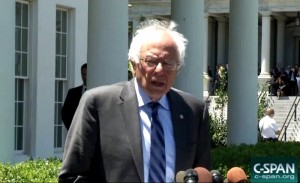 If you couldn't read between the lines of independent Vermont Senator and Democratic presidential runner-up Bernie Sanders' statement at the White House Tuesday afternoon, and President Obama's official endorsement of Hillary Clinton didn't do it for you, this should convince you that Bernie Sanders will drop out of the race following next Tuesday's Washington, DC primary.
After meeting with Obama in the Oval Office Tuesday morning, Sanders told reporters he would be competing next Tuesday, but also shifted his focus for the convention from securing the nomination to fighting for issues, and said he looks forward to "working with (Hilary Clinton) to defeat Donald Trump."
Then came the Obama endorsement, which was followed immediately by this email from the Hillary Clinton campaign:
President Barack Obama, Hillary Clinton to Campaign in Wisconsin

President Barack Obama and Hillary Clinton will campaign in Green Bay, Wisconsin on Wednesday, June 15. The event follows President Obama's endorsement earlier today that was announced online in a video and email, "I don't think there's ever been someone so qualified to hold this office. She's got the courage, the compassion, and the heart to get the job done…I have seen her judgment. I've seen her toughness. I've seen her commitment to our values up close. And I've seen her determination to give every American a fair shot at opportunity, no matter how tough the fight — that's what's always driven her, and still does."

In Green Bay, President Obama and Clinton will discuss building on the progress we've made and their vision for an America that is stronger together.

Earlier in the week, Hillary Clinton will campaign in Ohio on Monday, June 13 and Pennsylvania on Tuesday, June 14.

More details about these events will be released soon.
Next Tuesday is Bernie's off-ramp, followed by Obama's big entrance.
This is an opinion piece. The views expressed in this article are those of just the author.