Biden Critiques Trump's Claims of Good Health: 'I Don't Think He Could Keep Up' With Me Jogging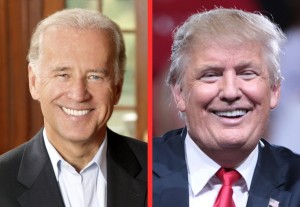 Despite Dr. Harold Bornstein's claims that his patient Donald Trump has across the board "astonishingly excellent" health, Vice President Joe Biden isn't so sure.
Joe Cool spoke with reporters Monday who grilled the Veep about a variety of issues, one of which was Trump's health and some of the more dubious claims made by the infamous Bornstein letter from December that read in part, "If elected, Mr. Trump, I can state unequivocally, will be the healthiest individual ever elected to the presidency."
It sounds like Vice President Biden is ready to put some of those claims to the test. CBS News' Mark Knoller noted:
As for @realDonaldTrump's claims of good health and stamina, Biden says: "I'd like to jog with him. I don't think he could keep up."

— Mark Knoller (@markknoller) September 13, 2016
But challenging claims of Trump's fitness aside, Biden addressed the controversy surrounding the health of his own party's standard-bearer Hillary Clinton, a topic that has come under close scrutiny since she was forced to leave a 9/11 remembrance ceremony early on Sunday with secretly diagnosed pneumonia. Biden acknowledges it may not have been the best move.
In chat with reporters yesterday, @VP says Clinton campaign staff acknowledges "they screwed up" in not disclosing her pneumonia earlier.

— Mark Knoller (@markknoller) September 13, 2016
Biden told reporters Clinton campaign will make her doctors available to talk to reporters about her health.

— Mark Knoller (@markknoller) September 13, 2016
Biden also said that it takes, "…getting through a think skull like Hillary's and mine to slow down," in order to halt an on-the-go politician who gets sidelined with something like pneumonia.
Biden recalls his own case of walking pneumonia last year, and what he and Clinton should have done: pic.twitter.com/lYbsF8Jyn6

— Mark Knoller (@markknoller) September 13, 2016
I'm proposing it now — a Trump v. Biden 5K to raise money for charity. The money can be split between the Cancer Moonshot Initiative and Trump's top veteran groups. Whaddya say, boys?
—
[images via the Wikipedia Commons]
Have a tip we should know? tips@mediaite.com