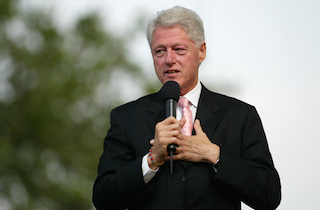 In an interview with CNN's Christiane Amanpour Wednesday, former President Bill Clinton conceded his criminal justice policies jailed too many people, a position in line with his wife Hillary Clinton's recent call for criminal justice reform.
"The problem is the way it was written and implemented is we cast too wide a net and we had too many people in prison," Clinton said. "And we wound up…putting so many people in prison that there wasn't enough money left to educate them, train them for new jobs and increase the chances when they came out so they could live productive lives."
RELATED: Romney: Hillary's Criminal Justice Reforms Just 'to Get More Support' from Black Community
Via CNN:
The former president didn't completely take the blame for those crime policies, though, pointing to Republicans who strongly pushed the "three strikes" provision.

"But I wanted to pass a bill and so I did go along with it," Clinton said, referencing the legislation that put more police officers on the streets, increased prison funding and banned assault weapons and large ammunition magazines.
Hillary Clinton unveiled a set of criminal justice reforms in a speech at Columbia University last week, which many were quick to point out addressed problems created by her husband's administration and supported by her at the time.
On Wednesday, Bill Clinton praised the bipartisan criminal justice reform effort currently emerging in the political discourse, to which his wife is a relative latecomer.
"I mean, going from conservative Republicans to liberal Democrats and the people in between saying there's too many people in jail and we're not doing enough to rehabilitate the ones you could rehabilitate," Clinton said. "We're wasting too much money locking people up who don't need to be there."
[h/t CNN]
[Image via Anthony Correia / Shutterstock.com]
——
>> Follow Evan McMurry (@evanmcmurry) on Twitter
Have a tip we should know? tips@mediaite.com