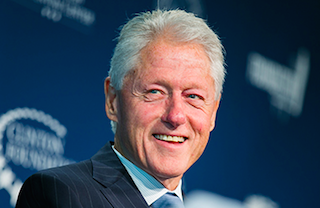 A recent article in The New York Times went into great detail describing Hillary Clinton camp's early efforts to make sure her husband does not upstage her on the campaign trail. The piece referred to former President Bill Clinton as a "frustrated and unpredictable presence" during her 2008 campaign and warned that "with just one stunner of a comment, the [2016] campaign could stumble."
Now according to a Politico source, Bill Clinton pushed back against this characterization by the Times at a private fundraiser in Austin, Texas last week, calling the piece more "creative writing" than news. When confronted about this alleged accusation, Clinton's spokesperson Matt McKenna pointed to a correction that was later added to the story.
At one point in the story, the reporters note that "when he steps out of his S.U.V., he sometimes spreads his arms awaiting an aide to put his jacket on each arm." A few days after the article was published online, this correction was added at the bottom of the page:
An article on Sunday about former President Bill Clinton's role in his wife's likely presidential campaign referred imprecisely to the driver of Mr. Clinton's S.U.V. The vehicle is driven by a United States Secret Service agent; Mr. Clinton is not "chauffeured."
But while Clinton may be privately pushing back on the suggestion that his presence could, in certain situations, hurt Hillary Clinton's presidential chances, he is publicly promising that he will play a diminished role in her campaign.
"My role should primarily be as a backstage adviser to her until we get much, much closer to the election," he said in an interview with Town & Country magazine this week.
[Photo via Clinton Foundation]
— —
>> Follow Matt Wilstein (@TheMattWilstein) on Twitter
Have a tip we should know? [email protected]