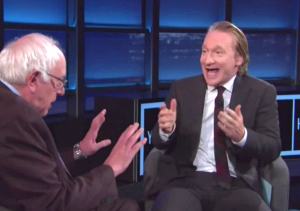 On Friday night's Real Time on HBO, host Bill Maher opened the show by sitting down with Presidential candidate Bernie Sanders and attempted to "undemonize the word Socialism". The segment from the bombastic Maher was designed to aid in the Sanders rhetoric in spite of his "socialist" moniker, which is largely viewed as the biggest impediment to his long shot Presidency bid. Although Maher frequently slams the Democrats as part of his show, he has been known to support candidates from the party, donating one million dollars to the reelection campaign of President Barack Obama.
"When you first started coming here, people thought your campaign was a fantasy; now you could be the candidate," continued Maher. There is no doubt that the seasoned voice of Maher's punditry views the Sanders campaign as a legitimate force for the left.
Bernie Sanders has made a strong showing of the fact that he does not accept Super PAC money to fund his political processing; Maher joked "I want to give you money, and I can only give you $5,400!".
But it is not as if Bill Maher was pandering to Sanders' likability on the show's appearance and having him dance his way onto the set to Burn Baby Burn. With a firm reasoning based in logic, Maher pushed the Vermont Senator on the fact that the word "socialist" is enough to shut down the majority of American voters.
Maher dug in assertively, "They hear 'Socialist', and they think 'herpes', Bernie".
Beyond the immediacy of the Democratic nomination, the threat of alienating the American electorate on a national scale was also a point of Maher's, who asked, "You could get Republicans? Even the toss-up states that Obama barely won?".
Maher seemed to all but officially endorse Bernie Sanders in this one appearance; just this week, Maher's pal Seth MacFarlane proudly introduced Sanders in Los Angeles, so the pressure to do so may continue to rise for the progressive Maher. Tonight he told Sanders in no uncertain terms,  "I want to see you get the nomination". As for Sanders, his rousing talking points about new incomes going to the top percent of Americans and other developed nation that guarantees healthcare as a right to its citizens were both staples of the Real Time appearance.
As has been the case in most of his public appearances where the crowd is filled with adoring superfans (Liberty University notwithstanding), the audience at Real Time energized the Sanders interview. As the segment ended, Maher joked, perhaps with a shade of truth, "I'll send you a check".
[image via screengrab]
—
>> Follow J.D. Durkin on Twitter (@MediaiteJD)
Have a tip we should know? tips@mediaite.com