Billionaire Pledges $2 Million to Trump's Charity of Choice… If He Releases His Tax Returns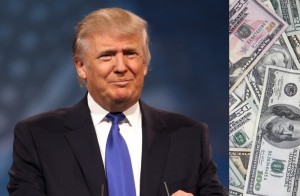 Donald Trump once famously described himself as an "ardent philanthropist," to highlight the large charitable nature of his real estate fortune. The billionaire made a big showing last year to demonstrate how much money he was giving to various veteran's groups as well, so this newest offer of largess would seem like a positive one for the charitable Trump.
Moishe Mana, an entrepreneur and art collector who pioneered a moving empire in New York City decades ago, has made a very generous offer to the charity of Donald Trump's choice… with a catch:
Billionaire Moishe Mana now pledging $2M to Trump charity of choice in exchange for last 5 years of tax returns, his Miami spokesman says.

— Jennifer Jacobs (@JenniferJJacobs) August 3, 2016
According to Bloomberg's Jennifer Jacobs, Mana has offered $2 million of his personal money in exchange for Trump releasing his tax returns, a sticking point on the campaign trail that the billionaire has refused to acquiesce to. The GOP nominee has continued to say that he is being audited, and therefore will not release his tax returns, though he told Greta Van Susteren in May, "So, the answer is, I'll release. Hopefully before the election I'll release. And I'd like to release."
However, as the IRS publicly clarified earlier this year, "Nothing prevents individuals from sharing their own tax information" during the auditing process. Trump has been blasted by the likes of Mitt Romney — who indicated a "bombshell" was lurking in those returns — as well as Warren Buffett, who this week challenged the nominee to transparency. "I'll bring my tax return. He can bring his tax return… Just let people ask us questions about items on there," Buffett told a crowd as a campaign stop for Hillary Clinton Monday. "Nobody is going to arrest us. There are no rules against showing your tax returns."
Every one of the past nine Republican nominees have released their tax returns according to PolitiFact: Ronald Reagan (1980, 1984), George H. W. Bush (1988, 1992), Bob Dole (1996), George W. Bush (2000, 2004), John McCain (2008) and Mitt Romney (2012).
Have a tip we should know? tips@mediaite.com