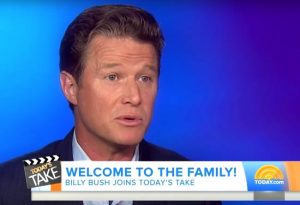 Yesterday, the media world was holding its collective breath to see what would become of newly-minted Today Show anchor Billy Bush after he was shown laughing along as Donald Trump made crude comments about women on a hot mic in 2005. His Facebook page filled with comments from furious viewers who called on NBC to fire him, but for now, it looks like he is going to be okay, employment-wise, according to a senior NBC executive who spoke to the Wall Street Journal.
Whether his coworkers — with whom he has already cultivated some drama in the few months he's been on the show — will get the memo that all is well when it comes to Bush is another thing entirely, but it will make Today extra entertaining at the very least.
Bush released a statement yesterday saying that he is embarrassed by the 11-year-old tape. He is expected to address the incident further on Monday's episode of Today.
Remember when you were younger and you did something awful and just knew your parents were going to punish you… but they didn't? Instead, they just sat back and watched you take the consequences of your actions? And in the end, you wished you had just gotten grounded instead of having to deal with the fallout of your actions, which you never thought you'd say in a million years? We will be tuning on Monday morning because this feels an awful lot like NBC is doing that.
[image via screengrab]
This is an opinion piece. The views expressed in this article are those of just the author.