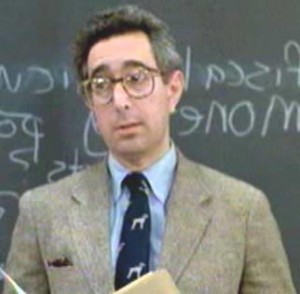 Charles Rangel's recent conviction for ethics violations has inspired celebrities like Jon Stewart and the cast of Saturday Night Live to express their opinions of the beleaguered House representative. Yesterday, another unlikely voice entered the fray: Ben Stein, best known for expertly taking attendance in Ferris Bueller's Day Off and hosting a game show on Comedy Central from 1997 to 2003. Oh, and also for being a speechwriter for Richard Nixon, and for making a wacky documentary that compares proponents of evolution to—sigh—Nazis.
Stein, a self-described "lifelong Republican," wrote an impassioned defense of Rangel for CBSNews.com. In it, he lauds the Democratic Congressman as a hero and calls his offenses "extremely trivial matters." According to Stein, Rangel can't be that guilty because he hasn't been prosecuted for tax evasion; "When you are a busy man, small tax issues can get lost in the shuffle," he writes.
And that's just the tip of the iceberg:
But what I really want to say about Charles Rangel is that this man is a genuine American hero.

In unbelievably difficult service in the Korean War, his unit was swamped, cut off, overwhelmed by hordes of Red Chinese crossing into Korea. In the worst cold weather imaginable, under fire, starving, acting Sergeant Charles Rangel, in a black unit led mostly by white officers, took a large group of men, led them by example, lifted their morale, as they fought their way out to safety. Men were being shot, freezing, getting captured all around him, yet he got most of his men out.

For this leadership, sacrifice, and courage, Mr. Rangel was awarded a Bronze Star with a V for Valor.

After that, he served as a prosecutor, and then for 20 distinguished terms, as a member of Congress, for a time as chair of the powerful Ways and Means Committee. His erudition and fairness earned him high marks throughout his career.

Now, he has been humiliated over what seems to me like almost nothing.

Just for me, I hope that history will record that a truly great man, Charlie Rangel, a hero of the first rank, was laid low by trivial, no-account matters, censured by people who mostly have no clue of what true courage, fighting, blood and frostbite mean.
Certainly Rangel served his country and served it well, both in Korea and afterwards. But how does that negate his ethics crimes? Sorry, Stein—we're not sure you're going to find a lot of people agreeing with you.
Anyone? Anyone?
Have a tip we should know? [email protected]