Blago Eyes A Second Political Career! Tells Matt Lauer: "I'm Not Ruling Myself Out"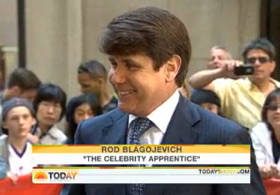 America shed a tear for Governor Rod Blagojevich last night when he was plucked out of Donald Trump's recession nightmare The Celebrity Apprentice for courageously defending Bret Michaels' work ethic. But Blago only gave the nation about 12 hours to mope before he was back on TV announcing his triumphant return to public office, which is a bold declaration to make when you've been banned for life from serving in your home state.
It took about two seconds after Trump said the magic words "you're fired" for Blagojevich's publicist Glenn Selig to tweet out the message that the governor was giving Today a visit this morning. And while he kept the poetry in his pocket, Blago delivered one of his most subdued yet classic TV performances yet. Matt Lauer and company praised Blagojevich for coming off as more likable than the average disgraced politician (though, who is he competing against, John Edwards?), and asked him a few questions about his relationship with Trump. "For the first time in my life," he noted, "I can say I like the guy who fired me."
Then they asked the one question that has yet to elicit anything short of an outstanding answer from the governor: "What are you going to do next?" After rehashing the same tired "I'm the anti-Nixon" script yet again, he dropped quite the bombshell. The certainty with which he states that he's "not ruling myself out as being someone again" makes it almost a sure thing that a run for office is in the near future, perhaps after his trial for attempting to sell Barack Obama's Senate seat.
The biggest question is where Blagojevich will end up campaigning. He can't go back to Illinois, where he is banned from serving in public office for life. New York, which has seen its share of celebrity carpetbaggers both failed (Harold Ford, Jr.) and successful (Hillary Clinton), is the obvious choice, especially with a weak senator like Kirsten Gillibrand and David Paterson's career dying a slow, painful death. New Jersey, the only state in America that is more corrupt than Illinois, has such low-performing politicians that it would probably welcome Blago with open arms. And when all else fails, he can always wait for another California recall.
Watch Blago's signature disregard for reality in action below:



Have a tip we should know? [email protected]