If you follow any political reporters on Twitter, you've probably seen their complaints about Hillary Clinton's theme song, "Fight Song."
There are the stages of grief:
1 Fight Song doesn't exist
2 It hurts!
3 Turn it off!
4 I'm sad
5 This beat is fine
6 I was sure this was Katy Perry
7 Fine, its a good song

— Colin Jones (@colinjones) July 29, 2016
There is the confusion about which pop star sings the thing:
i wish i could say i was trolling here but i actually thought it was a katy perry song. https://t.co/56bIGPPUBr

— McKay Coppins (@mckaycoppins) July 29, 2016
Finally, there is the all-consuming hatred: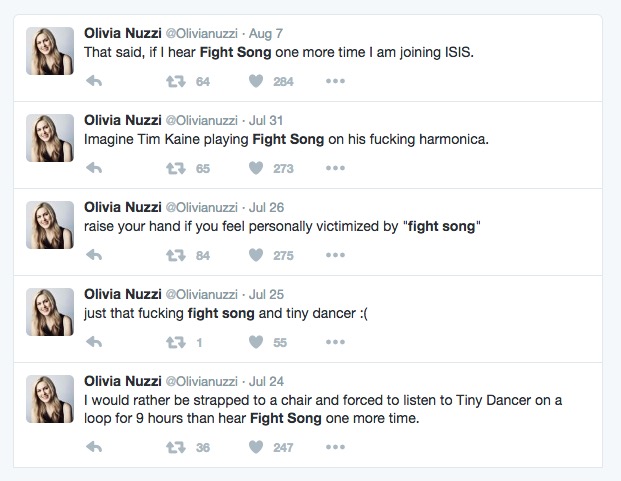 Today, it's really blowing up on Twitter, but that's not just because reporters are tired of it. No, a new report came out over at Yahoo News that said even the staffers hate it. Behold:
And anti-"Fight Song" tweets have been favorited by members of Clinton's team — a gesture that could be seen as a silent, social-media scream from a campaign that has cracked down on leaks. Some staffers declined to even anonymously give an assessment of the song for fear of being disciplined. One Clinton aide admitted to initially disliking the song, but the person suggested the star-studded video of it played at the Democratic National Convention improved their opinion of it.
In fairness, some people do like it, apparently…
Last week, I told the traveling Hillary press that I still liked "Fight Song" and they ordered me off the plane. https://t.co/P9FB2FfFyC

— Byron Tau (@ByronTau) August 23, 2016
…likely, as uncovered by Yahoo News, because of the celebrities who banded together to cover it for the DNC.
One staffer spoke to them anonymously and put it like this:
"Fight Song" is an anthem. "Fight Song" is a way of fucking life. It un-ironically brings me joy.
Can a song give a person Stockholm Syndrome, do you think?
[image via Gage Skidmore]
Have a tip we should know? tips@mediaite.com