Bloomberg Reporter Resigns over Outlet's 'Incompetent and Self-Serving' Handling of China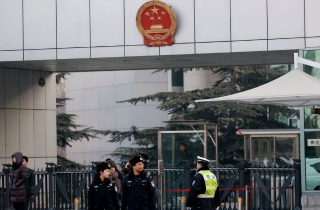 In November of last year, the New York Times published a report which claimed to reveal that Bloomberg News' editorial management informed their reporters in China who were working on a story regarding the "financial ties between one of the wealthiest men in China and the families of top Chinese leaders" that it could damage their relationship with the government in Beijing and it would not be published.
Bloomberg denied this was the case, but Bloomberg Chairman Peter Grauer cast doubts on this denial when he said that his outlet's mission is to report on economic developments around the world and stories like the one in question deviate from that mission and his organization "should have rethought" that type of coverage.
In the wake of that controversy, 13-year Bloomberg veteran and Asia news editor-at-large Ben Richardson has resigned.
RELATED: Bloomberg Chairman: We Should Have 'Rethought' Doing Reports Critical of China
In an email to Jim Romenesko, Richardson said he resigned "because of the way the story was mishandled, and because of how the company made misleading statements in the global press and senior executives disparaged the team that worked so hard to execute an incredibly demanding story."
"Clearly, there needs to be a robust debate about how the media engages with China," Richardson continued. "That debate isn't happening at Bloomberg."
Adding that the edited version of the story he had worked on was "gutted and narrowed down" to the point where it could be dismissed, Richardson warned that major media publications are no longer covering China the way it should be covered. He closed by praising Grauer, but had less positive things to say about other unnamed managers at Bloomberg.
"The sad thing about this is that a small group of incompetent and self-serving managers have screwed things up for everyone else," Richardson concluded.
Read the full email via JimRomanesko.com
[Photo via Kim Kyung Hoon / Reuters/Reuters]
— —
> >Follow Noah Rothman (@NoahCRothman) on Twitter
Have a tip we should know? tips@mediaite.com