Bobby Jindal: 'Radical Liberals' and Large Corporations 'Bullying' over Religious Freedom Laws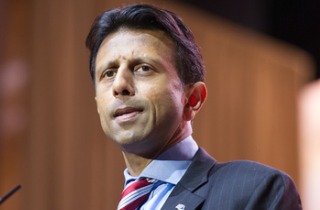 In a New York Times op-ed published Thursday, Louisiana Gov. Bobby Jindal stood firmly in favor of controversial religious freedom laws that sparked so-called "fixes" in Indiana and Arkansas.
Jindal, a potential 2016 GOP presidential contender, criticized businesses for joining "left-wing activists to bully" lawmakers in those two states into adopting the "fixes," which many on the left and some on the right said were necessary to make sure LGBT individuals would not face discrimination.
"It was disappointing to see conservative leaders so hastily retreat on legislation that would simply allow for an individual or business to claim a right to free exercise of religion in a court of law," Jindal wrote in the op-ed titled, "I'm Holding Firm Against Gay Marriage."
According to Jindal, lawmakers in Indiana and Arkansas simply sought to ensure that businesses had the right to cite religious liberty as a legal reason to "not participat[e]" in a gay wedding. He also accused those politicians of "quickly cower[ing] amid the shrieks of big business and the radical left" with their calls to adopt fixes.
"As the fight for religious liberty moves to Louisiana, I have a clear message for any corporation that contemplates bullying our state: Save your breath," Jindal wrote, vowing to sign a bill in Louisiana that would prevent the state from denying employment to someone "based on the person or entity's religious views on the institution of marriage."
Jindal also said corporations "under pressure from radical liberals" have already reached out to him asking to oppose the law, but asserted they won't "deter" him. In addition, Jindal sought to ensure that the bill, the Marriage and Conscience Act, does not open the door to anti-gay discrimination, but "merely makes our constitutional freedom so well defined that no judge can miss it."
Even though the tide seems to be turning on same-sex marriage support nationwide — which Jindal acknowledged — he urged his fellow conservatives to stand firm on the issue:
If we, as conservatives, are to succeed in advancing the cause of freedom and free enterprise, the business community must stand shoulder to shoulder with those fighting for religious liberty. The left-wing ideologues who oppose religious freedom are the same ones who seek to tax and regulate businesses out of existence. The same people who think that profit making is vulgar believe that religiosity is folly. The fight against this misguided, government-dictating ideology is one fight, not two. Conservative leaders cannot sit idly by and allow large corporations to rip our coalition in half.
Read the full op-ed here.
[Image via Shutterstock]
— —
>>Follow Andrew Desiderio (@forza_desiderio) on Twitter
Have a tip we should know? tips@mediaite.com