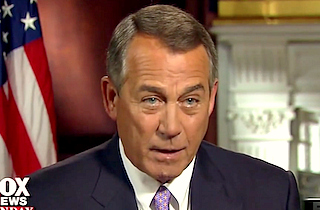 According to reports, House Speaker John Boehner is set to bring a so-called "clean" bill to fund the Department of Homeland Security to the floor as early as Tuesday, essentially admitting defeat on the House GOP's weeks-long effort to use the DHS bill to defund President Barack Obama's immigration orders.
If brought to the floor, the bill would likely pass with the support of House Democrats.
Boehner's move leaked one hour before Israeli Prime Minister Benjamin Netanyahu is set to address the Congress, a politically provocative maneuver on the part of House Speaker. The Bibi speech could overshadow the news of the vote and potentially moderate pushback from his conservative caucus.
House Republicans attached riders defunding a variety of Obama's immigration orders, a bill that was blocked by Senate Democrats. On Friday House Republicans squelched Boehner's plan to pass a three-week funding bill that would potentially give a district court a chance to rule on whether Obama could implement his immigration order while a suit against it was pending. Boehner was able to narrowly avoid a DHS shutdown only by partnering with House Democrats on a one-week continuing resolution, which just reset the same set of no-win circumstances for this Friday.
Rumors have persisted — again — that Boehner's job could be jeopardized by bringing a clean bill to the floor. Meanwhile, the conservative caucus that would lead the coup have been roundly criticized by their own party for the maneuvers, which Boehner himself said he couldn't explain.
[h/t CNN]
[Image via screengrab]
——
>> Follow Evan McMurry (@evanmcmurry) on Twitter
Have a tip we should know? tips@mediaite.com