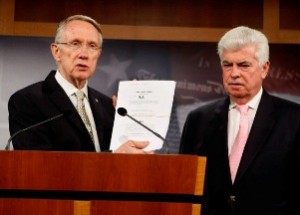 Now that 2009 is coming to a close, it's time to start thinking about 2010. Specifically, November 2010.
ABC News' Deputy Political Director Teddy Davis takes a look at 10 important races to watch – and races the media is getting ready to cover very closely.
First of all, it looks like ABCNews.com is already in 2010 mode:


But onto the races. Writes Davis, "The 2010 midterm elections will be viewed as a critical barometer of President Obama's strength, and an important test of whether the Republican Party has recovered from the drubbing it took at the end of the Bush years."
A couple of them relate to Senators currently in the news because of the health are bill. And top on the list is Connecticut. "Democratic officials view Sen. Chris Dodd, D-Conn., as their most vulnerable Senate incumbent in 2010," writes Davis.
Another vulnerable Senator – the Majority Leader himself, Sen. Harry Reid. "In a sign of the trouble he faces at home, Reid recently began running television ads in Nevada — more than a year before voters go to the polls — in an effort to introduce himself to the state's legions of newly registered voters," writes Davis.
There's also the up-in-the-air New York Governor race. Gov. David Paterson will be a candidate, and Andrew Cuomo likely will be as well. Who else? Rudy Giuliani? Hillary Clinton?
Here's a couple more (and some of the key candidates):
• PA Senate: Arlen Spector, Joe Sestak, Pat Toomey
• CA Governor: Meg Whitman, Jerry Brown, John Garamendi
• TX Governor: Kay Bailey Hutchison, Rick Perry
Check out the full list here – and get ready. Massive coverage (likely) starts January 1.
—–
» Follow Steve Krakauer on Twitter
Have a tip we should know? tips@mediaite.com