Brakes On: Mitt Romney's 'I Enjoy Being Able To Fire People' Comment Part Of Larger Health Care Quote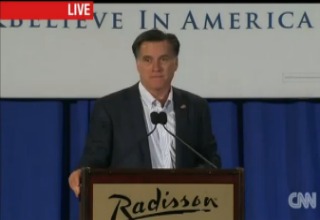 While much has been made online concerning a video showing presidential hopeful Mitt Romney saying he enjoys "being able to fire people" full stop, that admittedly sensational statement is actually part of a longer statement. And, with context added, it turns out that Romney isn't quite expressing his great joy at being able to ruin someone's day and/or life on a whim, but making a broader point about health care reform.
Here's Romney's full quote, for your reference:
I want people to be able to own insurance if they wish to, and to buy it for themselves and perhaps keep it for the rest of their life, and to choose among different policies offered from companies across the nation. I want individuals to have their own insurance. That means the insurance company will have an incentive to keep you healthy.

It also means if you don't like what they do, you can fire them. I like being able to fire people who provide services to me. If someone doesn't give me the good service I need, I'm going to go get somebody else to provide that service to me.
And here's a video of Romney's speech — from YouTube account "DemRapidResponse," originally from CNN — that's been making its way around the web. As you can see, they have several videos devoted to covering Romney:
That particular "cut" of Romney's full statement has made its way onto the likes of CBSNews.com, which does make sure to note that "[e]ven if the statement is essentially a commentary on the free market, the candidate is already taking heat for saying he likes to 'fire people' — a remark that, while unrelated to Romney's record at Bain, will undoubtedly be used against him in light of the recent attacks and the scrutiny of the company's record of hiring and firing employees."
The Guardian's site referred to Romney's statement as a "blunder," adding that he "offered his political rivals a gift on Monday when he volunteered that he liked firing people."
Rival candidate Jon Huntsman — who has been launching a bold defense campaign of sorts against Romney in New Hampshire — shot back that while "Governor Romney enjoys firing people," "I enjoy creating jobs."
The Atlantic, meanwhile, offers a look at what the impact full quote means for Romney:
But let's be reasonable for a moment. It's quite clear that what Romney was trying to say was that consumers like firing service-providing companies, not people. (It doesn't make any sense, the other way. I can switch from Chase from Visa, but I don't have the ability to fire a Chase service representative.) It's a fitting gaffe for Romney, considering this is the candidate who claimed under different circumstances that companies and people are one and the same.
So, while the words "I enjoy being able to fire people" did leave Romney's lips, perhaps ill-advisedly, it is unfair — as it always is, for any given candidate (no matter what Super PAC ads may want you to believe) — to use his words against him in a misleading manner. Without offering the context in which they were uttered, we lose the very context that gives Romney's words their meaning and allows these to convey Romney's actual message — gaffe or no gaffe.
What Romney is saying here, and what becomes lost when we choose to focus on a single, sensational-seeming phrase, is that he wants to give people the power to pick and change (or "fire") their insurance providers without having a universal mandate in place.
Here is the video with full context:
h/t DemRapidResponse via The Washington Post
Have a tip we should know? tips@mediaite.com