Armed Attackers Take About 20 Hostages in Restaurant in Dhaka, Bangladesh; 2 Killed (UPDATED)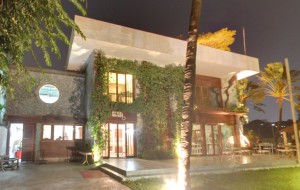 Roughly 6-8 attackers armed with guns and grenades took about 20-30 people hostage Friday night in a restaurant in the capital city of Dhaka, Bangladesh.
A restaurant employee who escaped said that the attackers shouted "Allahu Ackbar" (God Is Great), according to local television.
The restaurant, Holey Artisan Bakery, is located in the diplomatic zone of the city, which is heavily trafficked by foreigners. The U.S. Department of State confirmed that all Americans in Dhaka on diplomatic business were accounted for.
Two police officers were killed in the skirmish with attackers, CNN reported.
Bangladesh, a traditionally moderate Muslim-majority nation, has recently seen an upsurge in militant violence. Nearly two dozen atheist writers, publishers, members of religious minorities, social activists and foreign aid workers have been slain since 2013 by attackers. The frequency of attacks has increased in recent months. On Friday, a Hindu temple worker was hacked to death by at least three assailants in southwest Bangladesh.

The attacks have raised fears that religious extremists are gaining a foothold in the country, despite its traditions of secularism and tolerance.
UPDATE — 3:28 p.m. ET: The ISIS-affiliated news organization Amaq Agency claims that the terrorist group is responsible for the attack.
Amaq Agency just claimed IS is responsible for attack in Dhaka, Bangladesh. pic.twitter.com/CcBKxVMVKF

— Michael S. Smith II (@MichaelSSmithII) July 1, 2016
UPDATE — 4:00 p.m. ET: Forty people are confirmed to be injured. 
UPDATE — 6:23 p.m. ET: Italian television has reported that seven of the approximately 20 hostages are Italian.
BREAKING: Seven Italians among approximately 20 hostages being held at a #Dhaka restaurant as siege continues – Italian TV #Bangladesh

— Lisa Daftari (@LisaDaftari) July 1, 2016
UPDATE — 10:25 p.m. ET: The police are reportedly storming the restaurant now and there are reports of heavy gunfire:
#BREAKING Bangladesh security forces storm hostage restaurant: official

— AFP news agency (@AFP) July 2, 2016
BREAKING: Gunshots, explosions heard as security forces move to end Bangladesh hostage standoff.

— The Associated Press (@AP) July 2, 2016
UPDATE — 11:09 p.m. ET: Hostages have reportedly been rescued from the restaurant:
BREAKING: Bangladesh police say between 8 and 10 hostages rescued from Dhaka restaurant, Reuters reports

— Fox News (@FoxNews) July 2, 2016
This story has been updated. 
[image: Holey Artisan Bakery. via Google Maps]
Have a tip we should know? tips@mediaite.com