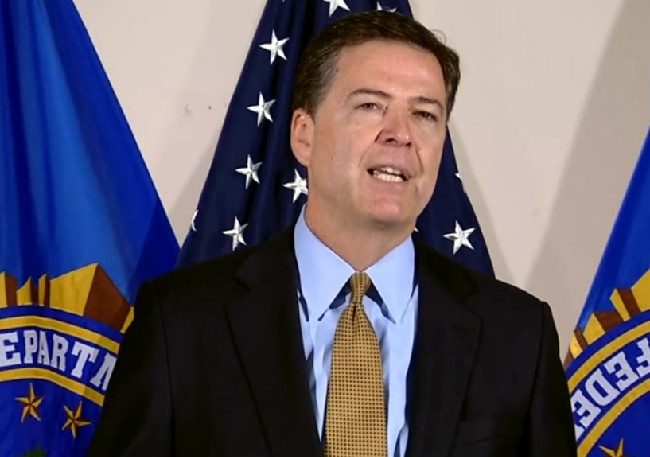 F.B.I. Director James B. Comey has called on the Department of Justice to reject President Donald Trump's claims that Barack Obama, while in office, called for an illegal wiretap of Trump Towers during the 2016 Presidential election.
Comey has stated that the highly charged claim is false and must be corrected. In addition, Trump's accusation implies that the F.B.I. would have broken the law should the allegations be true. Comey has also been working with the DOJ to knock down Trump's claim as there is virtually no evidence.
A statement by the F.B.I. invalidating the president's claims would be a huge blow to the office of the presidency, essentially putting the nation's top law enforcement officials in a position where they could question the truthfulness of the nation's highest government official.
At this time there has been no official statement from the F.B.I. or Comey, nor has there been a rebuttal from President Trump.
According to the New York Times, one of the reasons he wants this knocked down is due to the notion that the belief that there is a legal wiretap will make the public believe that there is evidence that Trump colluded with Russia:
Along with concerns about potential attacks on the bureau's credibility, senior F.B.I. officials are said to be worried that the notion of a court-approved wiretap will raise the public's expectations that the federal authorities have significant evidence implicating the Trump campaign in colluding with Russia's efforts to disrupt the presidential election.

One problem Mr. Comey has faced is that there are few senior politically appointed officials at the Justice Department who can make the decision to release a statement, the officials said. Attorney General Jeff Sessions recused himself on Thursday from all matters related to the federal investigation into connections between Mr. Trump, his associates and Russia.
As of now, the Department of Justice has not released any statement rejecting Trump's assertion.
[image via screengrab]
——
Adam: Twitter.
Have a tip we should know? tips@mediaite.com