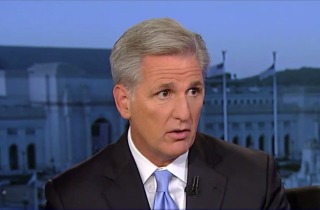 We are quickly learning details that have emerged out of Washington that favorite Kevin McCarthy has informed his Republican colleagues that he is dropping out of the election for Speaker of the House of Representatives.
In the hallway outside of the voting room, CNN's Dana Bash caught a quick interview with New York Representative Peter King, who said, "People were absolutely stunned" at McCarthy's revelation. Bash's initial report from moments ago is here:
After John Boehner announced that he would be stepping down from the role, McCarthy was the heavy favorite to replace him. However, McCarthy has made headlines in regards to several gaffs
Upstart challenger Utah Rep. Jason Chaffetz is another candidate in the running, as is Florida Rep. Daniel Webster, though both men were seen as long-shots compared to McCarthy. Chaffetz recently argued that McCarthy shouldn't get an "automatic promotion" to the position of Speaker.
Kansas Rep. Tim Huelskamp told Bash that McCarthy said to his Republican constituents "I am not the one"; Virginia Rep. David Brat said of the situation, "It was a shock to everybody in the room". Brat attempted to draw the conversation onto policy before Bash brought it back to the issue of the vacated Speaker position.
CNN's Bash noted that McCarthy reportedly was afraid his candidacy might further divide the Republicans in what has surely been a contentious lead-up to today's election. The vote is currently being delayed with no announcement regarding its rescheduling. 
Update — Oct. 8, 12:53 p.m. ET: Chairman of the House Ways and Means Committee Paul Ryan has released the following statement:
"Kevin McCarthy is best person to lead the House, and so I'm disappointed in this decision. Now it is important that we, as a Conference, take time to deliberate and seek new candidates for the speakership. While I am grateful for the encouragement I've received, I will not be a candidate. I continue to believe I can best serve the country and this conference as Chairman of the Ways and Means Committee."
Update — Oct. 8, 1:01 p.m. ET: Moments ago McCarthy joked with the press, "I think I shocked some of you, huh?". The California Representative continued saying, "We're servants — we should put this Conference first… We need a new face. [It's] nothing more than that… I think we're only going to be stronger."
Watch video of McCarthy's comments below, via C-SPAN:
Update — Oct. 8, 1:14 p.m. ET: McCarthy tweeted the following:
We're public servants. I have always put this Conference and Country ahead of myself. We need to unite behind one leader and get to work.

— Kevin McCarthy (@GOPLeader) October 8, 2015
Update — Oct. 8, 1:37 p.m. ET: Jason Chaffetz spoke to reporters and said, "I was absolutely stunned, surprised… Kevin McCarthy is a very good man… and so, he and I stand shoulder to shoulder. I really do believe it is time for a fresh start, and that is the whole genesis for my campaign."
Update — Oct. 8, 3:53 p.m. ET: Democratic National Committee Chair Debbie Wasserman Schultz has released the following statement:
"Republican dysfunction in the House of Representatives is preventing Congress from taking action to help middle class families and create greater opportunity for every American. House Republicans continue to waste taxpayer time and money on baseless investigations and government shutdowns. The Tea Party caucus has now claimed one Speaker and two Speakers-in-waiting.

"Meanwhile, Democrats have created 13 million jobs, 67 straight months of private sector job growth, and extended access to quality, affordable health care for 17 million Americans. The choice for American voters between Democrats and Republicans could not be any more clear."
[image via screengrab]
—
>> Follow J.D. Durkin (@MediaiteJD) on Twitter
Have a tip we should know? tips@mediaite.com