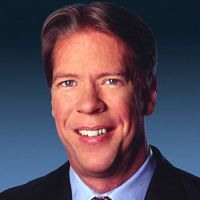 Mediaite has learned that Fox News White House correspondent Major Garrett is leaving the network effective September 3rd to return to his roots in print journalism. White House correspondents Wendell Goler and Mike Emanuel will assume joint coverage of the WH beat for Fox News.
The highly respected White House reporter weathered numerous battles between FNC and the White House and maintained the highest standard of journalism during his tenure. Developing…
UPDATE: Brian Stelter of the NYT tweets: NYT's @jwpetersNYT confirms that National Journal is hiring Major Garrett away from Fox News. Apparently Atlantic Media owner David Bradley wasn't fooling around when he said he wanted to take on Politico. [GM]
MAJOR GARRETT RETURNS TO PRINT JOURNALISM
Leaves FOX News September 3rd
FOX News' Chief White House correspondent Major Garrett announced today that he will leave the network effective September 3rd to return to his roots in print journalism. White House correspondents Wendell Goler and Mike Emanuel will assume joint coverage of the beat.

In making the announcement, Garrett said, "Slightly more than eight years ago, [FOX News Chairman & CEO] Roger Ailes, [former FOX News Executive Vice President] John Moody and [former FOX News Washington Managing Editor and current Senior Political Analyst] Brit Hume created a full-time reporting position for me in the Washington bureau. Our new Senior Vice President of News, Michael Clemente, has continued that support. Since August of 2002, the network and its top executives have given me every opportunity a journalist could hope for. I thank the network for giving me the chance to grow as a reporter and broadcaster."

He continued, "Throughout my television career, I've known with certainty I would someday return to my roots in print journalism. That day has come. I will soon announce an exciting new phase of my career — one made possible in no small part by FOX News' consistent support. It would take a lot – something near perfection – to lure me away from the best job I've ever had. Details to come."

Garrett further remarked, "I will miss many dear FOX News journalists, colleagues and friends. I wish all of them success. I look forward to discussing my future work on FOX News – keeping in touch with an audience I've come to know and cherish. Before I leave FOX News, I would like to say a heartfelt thank you to each and every viewer who extended to me their generous good wishes, support and encouragement."

Michael Clemente, Senior Vice President of News Editorial for FOX News added, "There are reporters and then there are truly tenacious reporters who come along every so often. Major Garrett is a fact-finding machine, and wherever he goes he will continue to serve an audience that is thirsting for genuine reporting and balance. We wish him the best as he turns this page."

Joining FOX News from CNN in 2002, Garrett served as the network's chief White House correspondent since January 2009. Prior to that, he held the position of congressional correspondent reporting on House and Senate races and providing extensive coverage of the 2004 and 2008 presidential elections. Before embarking on a television career, Garrett spent seven years at the Washington Times as its congressional reporter and later a deputy national editor.

FOX News Channel (FNC) is a 24-hour general news service covering breaking news as well as political, business and entertainment news. For over 100 consecutive months, FNC has been the most-watched cable news channel in the country. Owned by News Corp., FNC is available in more than 90 million homes.
> Update #2: Here's an internal memo sent out from Clemente:
To all,

After eight years of solid work at Fox News, Major Garrett is moving to the next phase of his career and returning to his roots in print journalism.

As you well know, Major is as sharp and determined as any journalist in the business. He's been at Fox since 2002, having already worked at CNN and a number of print organizations including The Washington Times and U.S. News and World Report. He's covered everything, from wars to elections, Congress, the White House, impeachment and terror attacks. He was with President Bush on September 11th in Florida and he's been with President Obama, across the globe.

We wish him all the best in his future endeavors and we want to give a heads up to those who may find themselves on the receiving end of his questions…get ready.

A press release is attached as we send this news out beyond Fox, so please join me in wishing Major the best of luck, as he bids farewell here.

Michael
Have a tip we should know? tips@mediaite.com