According to Townhall editor and frequent Fox News contributor Guy Benson, controversial Breitbart editor Milo Yiannopoulos has been disinvited from speaking at the upcoming Conservative Political Action Conference (CPAC) in DC, a report that was quickly confirmed by the ACU Chair.
Milo will be disinvited from #CPAC, I've just been told.

— Guy Benson (@guypbenson) February 20, 2017
Yiannopoulos' initial invitation drew criticism, especially after a questionable clip emerged on social media revealing the Breitbart editor appearing to at least "advocate" for pedophilia. The clip, which was first put online by The Reagan Battalion, quickly made the rounds Sunday; Yiannopoulos says in the video:
In the homosexual world, particularly, some of those relationships between younger boys and older men — the sort of 'coming of age' relationship — those relationships in which those older men help those young boys discover who they are and give them security and safety and provide them with love and a reliable, sort of rock, where they can't speak to their parents.
On Sunday night, board member Ned Ryan of the American Conservative Union noted on social media that the board was not consulted regarding Yiannopoulos' appearance.
Matt Schlapp later announced that President Donald Trump would also be a confirmed guest for the conference. Moments ago Schlapp returned to social media with a full statement regarding Yiannopoulos' status as a CPAC guest.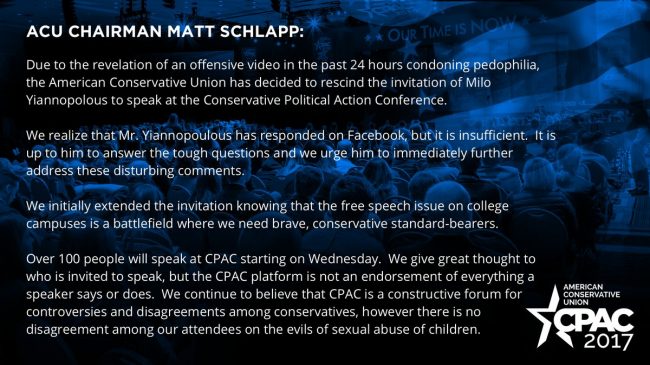 "Due to the revelation of an offensive video in the past 24 hours condoning pedophilia, the American Conservative Union has decided to rescind the invitation of Milo Yiannopoulos to speak at the Conservative Political Action Conference," the statement begins. In his original announcement celebrating the news that Yiannopoulos would take part, Schlapp noted, "We think free speech includes hearing Milo's important perspective."
However, it would appear as if Milo Yiannopoulos — who sat down with Real Time's Bill Maher on Friday before the much-maligned video was released by The Reagan Battalion — was unaware of CPAC's sudden about-face regarding his invitation. Ryan Lizza of The New Yorker said that he spoke with the Breitbart editor about the news:
I just got off the phone with Milo Y. He was unaware of this decision and said he's probably still coming to DC. https://t.co/YxCAjLyC7I

— Ryan Lizza (@RyanLizza) February 20, 2017
Just minutes ago, Yiannopoulos took to his Facebook page to issue a lengthy response to the criticism he became embroiled in this weekend; however, it does not mention the status of his CPAC appearance in anyway specifically. "And I've repeatedly expressed disgust at pedophilia in my feature and opinion writing. My professional record is very clear," he writes. "But I do understand that these videos, even though some of them are edited deceptively, paint a different picture."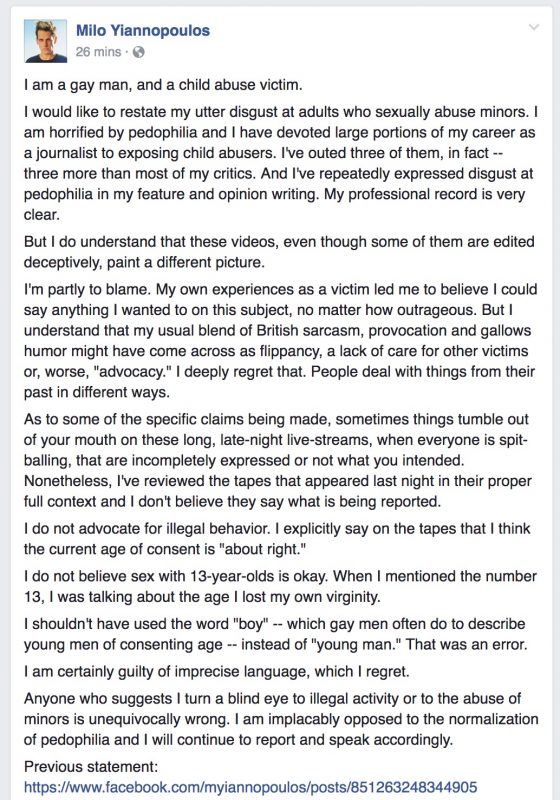 "I do not believe sex with 13-year-olds is okay. When I mentioned the number 13, I was talking about the age I lost my own virginity," he further clarified.
This information is breaking and we will update as we learn more.
—
J.D. Durkin (@jivedurkey) is an editorial producer and columnist at Mediaite.
Have a tip we should know? tips@mediaite.com