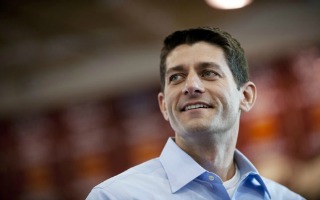 WASHINGTON D.C. — As suspected (though these things don't always go according to plan, of course) Paul Ryan has been nominated by his peers to be the next Speaker of the House of Representatives, defeating Florida Rep. Daniel Webster.
The Wisconsin state representative has long been a favorite of the GOP, and his name was first floated for the role several weeks ago after Kevin McCarthy unexpectedly announced he would drop his own bid for the Speakership. Outgoing Speaker John Boehner of Ohio announced that he would vacate his position shortly after meeting Pope Francis last month.
Paul's start in the chamber pending tomorrow's vote will not be an easy one. He criticized the tentative White House-Congressional budget deal this week ("It stinks," he declared); Arizona Republican Rep. Trent Franks said recently, "Paul has monumental obstacles." Close to $80 billion is the figure being floated to deal with imminent defense spending, and negotiations on the debt ceiling will assuredly be front and center for the new Speaker.
House Republicans have elected @PRyan of Wisconsin as their candidate for Speaker of the House.

— House Republicans (@HouseGOP) October 28, 2015
On the afternoon that McCarthy declared his intentions of withdrawing his name for the role, Paul Ryan released a statement declaring that we would firmly not pursue the role. The statement in part read, "While I am grateful for the encouragement I've received, I will not be a candidate."
Ryan's eventual consideration of the role came after he carefully laid out a series of conditions that had to be met. One of the key groups that he was hoping to gain an official endorsement from — the House Freedom Caucus — officially fell short in garnering the necessary 80% of votes last week; although the group revealed its intentions to "support" Ryan's candidacy for Speaker nonetheless, the Freedom Caucus has been open for its support of Webster for the position.
>> Follow J.D. Durkin on Twitter (@MediaiteJD)
Have a tip we should know? tips@mediaite.com