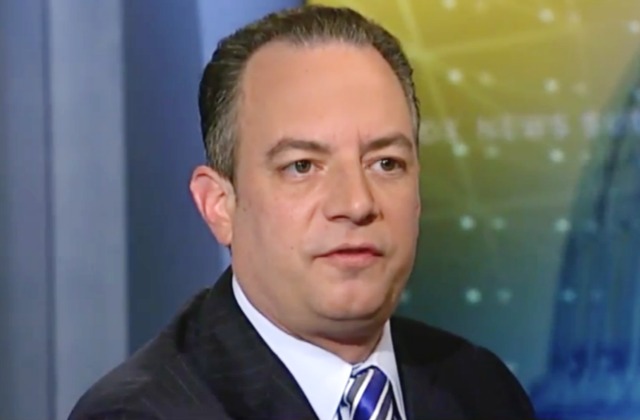 Reince Priebus is out as White House Chief of Staff.
And the big announcement came from President Trump himself on Twitter this afternoon:
I am pleased to inform you that I have just named General/Secretary John F Kelly as White House Chief of Staff. He is a Great American….

— Donald J. Trump (@realDonaldTrump) July 28, 2017
…and a Great Leader. John has also done a spectacular job at Homeland Security. He has been a true star of my Administration

— Donald J. Trump (@realDonaldTrump) July 28, 2017
I would like to thank Reince Priebus for his service and dedication to his country. We accomplished a lot together and I am proud of him!

— Donald J. Trump (@realDonaldTrump) July 28, 2017
CNN is reporting that Priebus actually resigned on Thursday.
New: A source close to now former White House Chief of Staff Reince Priebus says he resigned privately yesterday

— Jim Sciutto (@jimsciutto) July 28, 2017
The writing was on the wall for the former RNC president with the comments made by new White House Communications Director Anthony Scaramucci to the New Yorker, which were published on Thursday. Among other vulgar comments, Scarmucci called Priebus a "f*cking paranoid schizophrenic."
A New York Times report early Friday suggested that not only was Priebus's ouster a possibility, but so was the idea of replacing him with Kelly. A retired four-star general, Kelly has been serving as the Secretary of Homeland Security.
Before Trump even took the Oath of Office, the media has been skeptical that Priebus's tenure as Chief of Staff would last. Seemingly every few weeks, a new report surfaced saying that his ouster was imminent. On Friday, it finally became official.
UPDATE –– 6:38 pm ET: Priebus and Kelly now have statements out:
BREAKING: Reince Priebus gives statement following announcement of his departure as White House chief of staff pic.twitter.com/hiCuCtPFNa

— NBC Politics (@NBCPolitics) July 28, 2017
NEW: Kelly statement pic.twitter.com/EG9cpXQ8tl

— Betsy Woodruff (@woodruffbets) July 28, 2017
[image via screengrab]
——
Follow Joe DePaolo (@joe_depaolo) on Twitter
Have a tip we should know? tips@mediaite.com
Joe DePaolo - Senior Editor