(UPDATES BELOW ORIGINAL POST) CNN's Drew Griffin reported just a few minutes ago that shots have been fired in Watertown, Massachusetts, where police continue to canvas in their manhunt for suspected Boston Marathon bomber Dzhokhar Tsarnaev.
In addition to this, WCVB reporter Sean Kelly has been tweeting information about the shots, saying that authorities are "screaming at residents to get inside" and have long guns drawn. It is believed that police have pinned down the second suspect.
You can watch a CBS livestream of today's events here.
UPDATE @ 7:22: Boston Police are now advising everyone to stay indoors after lifting that order only mere hours ago.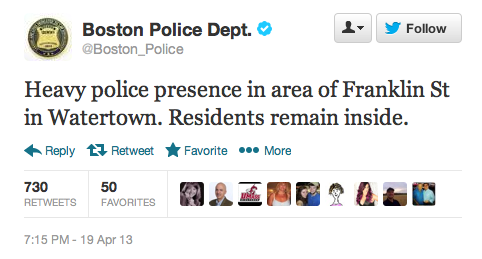 Watch the video of CNN's Drew Griffin first reporting on the shots fired:
UPDATE @ 7:37: Major news orgs now reporting police tracked someone believed to be the second Boston bombing suspect to a boat in Watertown. CBS' Major Garrett tweeted that Massachusetts State Police are saying the suspect is surrounded but alive; however, this is the latest piece of information coming from NBC News.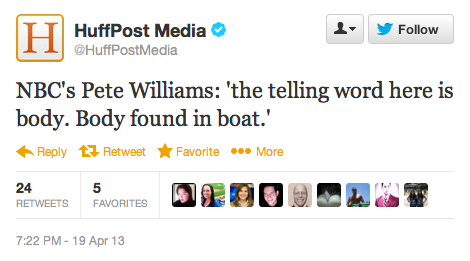 UPDATE @ 8:16: The suspect is still in the boat, still unconfirmed to be the second bombing suspect, and according to the Boston Globe police used flash bangs to disorient him.
And NBC News is now saying there is a FIRE in the boat.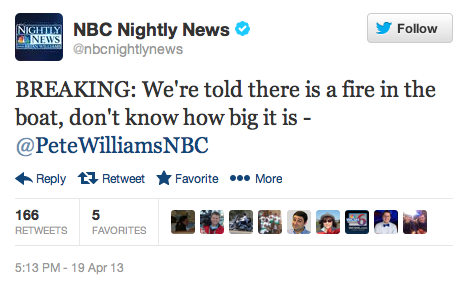 UPDATE @ 8:21: WHDH aired a video earlier where you can clearly hear the gunfire from earlier.
UPDATE @ 8:39: Tweet from the Boston Globe on a new development in New Bedford, Massachusetts: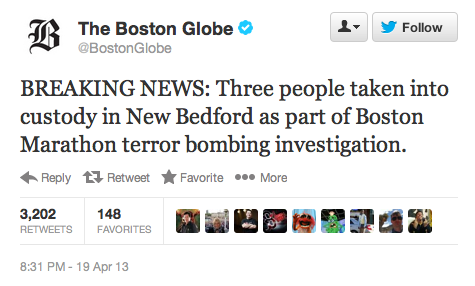 UPDATE @ 8:45: Confirmation from multiple news sources that the suspect is alive and in custody.
Watch WHDH's coverage of this breaking news:
UPDATE @ 8:52: Immediately following news reports, the Boston Police officially confirmed having the suspect in custody.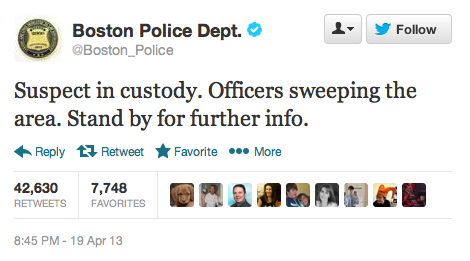 —–
Follow Josh Feldman on Twitter: @feldmaniac
Have a tip we should know? tips@mediaite.com
Josh Feldman - Senior Editor