Breitbart Back On MSNBC, Introduces World To "Jovial And Measured Andrew"
Andrew Breitbart Introduces World To 'Jovial And Measured Andrew' On MSNBC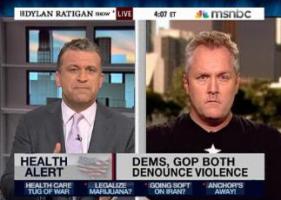 Remember the last time Andrew Breitbart was on MSNBC? His fiery exchange with David Shuster ended up in a lot of shouting and not a lot of discussing.
Well he was back on today with Dylan Ratigan – and Breitbart tells us he introduced the world to a whole new Andrew.
Ratigan and Breitbart had a very reasoned, and very lengthy (nearly 20 minutes) discussion, in which they duo agreed on quite a bit. Ratigan certainly has a different style than Shuster, but Breitbart was different as well. The conversation related to the tea party movement – and reaction to it from the media and politicians.
Ratigan played the role of the "new guy," making sure to separate himself from the rest of the network. "I don't speak for MSNBC, I'm a new guy here, I've only been here for nine months, so I only speak for the hour between four and five," he said.
So what did Breitbart think of the interview? He told Mediaite he was "very appreciative" of getting a chance to "get my point across," – unlike the first time he was on, which he called "a set-up."
But there was a different reason for his new tone – ACORN is officially gone. In fact, get ready to see a whole new Andrew Breitbart. "I had war paint on my face from September 10 until very recently when ACORN finally went bankrupt," he said. "That was to protect Hannah and James and myself and my business and do everything i could to make the most people see the videos."
But now, he says, "I believe I've turned the chapter here," and the next chapter will be "a much more jocular, jovial and measured Andrew."
Breitbart also teased what's next – more tapes (this time relating to HUD). "If the media starts doing its job I have no problem with the media," he said.
Here's the full MSNBC interview today:


—–
Note: This story was originally published on Mar 25, 2010
Have a tip we should know? tips@mediaite.com