Brent Bozell On Anderson Cooper Being Gay: 'Can [He] Give Us His Expert Opinion On Teabagging Now?'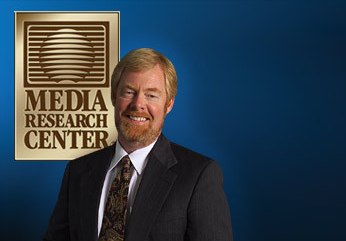 This morning, CNN newsman Anderson Cooper announced that he is gay, "always have been, always will be." In response, Brent Bozell, president of the conservative media watchdog Media Research Center, pecked out an utterly obnoxious tweet: "Can @andersoncooper give us his expert opinion on teabagging now?," implying that Cooper's homosexuality means he often engages in that particular sexual activity.
The tweet, pictured below, included a link to a 2009 MRC article on Cooper's "vulgar" use of the term "tea-bagging" while describing the Tea Party during the movement's heyday.

In the offending CNN clip, senior political analyst David Gergen said that Republicans were "searching for their voice" after two electoral losses. In response, Cooper joked, "It's hard to talk when you're tea-bagging."
Look, I get that many conservatives were upset about the media's widespread giggle-fest over the term "tea-bagger" being used to describe the Tea Party movement. It was obnoxious and childish. (Though, oddly enough, much of the Tea Party movement proudly embraced the term.) But Bozell's tweet comes off as petty grudge-holding at best, and unabashed homophobia at worst.
Homophobic because "tea-bagging" is not a sexual activity exclusive to homosexuality. I'll spare you the details (you are all capable of using the Internet), but suffice it to say, having a mouth is not exclusive to being a male. Bozell's assumption that Cooper's outed homosexuality makes him an expert in tea-bagging is clearly ill-conceived.
What makes this tweet even more obnoxious is that in 2010 Bozell himself publicly shunned the term "tea-bagger" as a gay slur on par with the word "faggot." Yet now, Bozell finds it appropriate to drop the t-word on the day Cooper publicly comes out of the closet.
You stay classy, Brent Bozell.
>> Follow Andrew Kirell (@AndrewKirell) on Twitter
Have a tip we should know? tips@mediaite.com