Bret Baier Praises Jeanine Pirro's Ratings Weeks After Producer on His Show Called Out Host's Islamophobia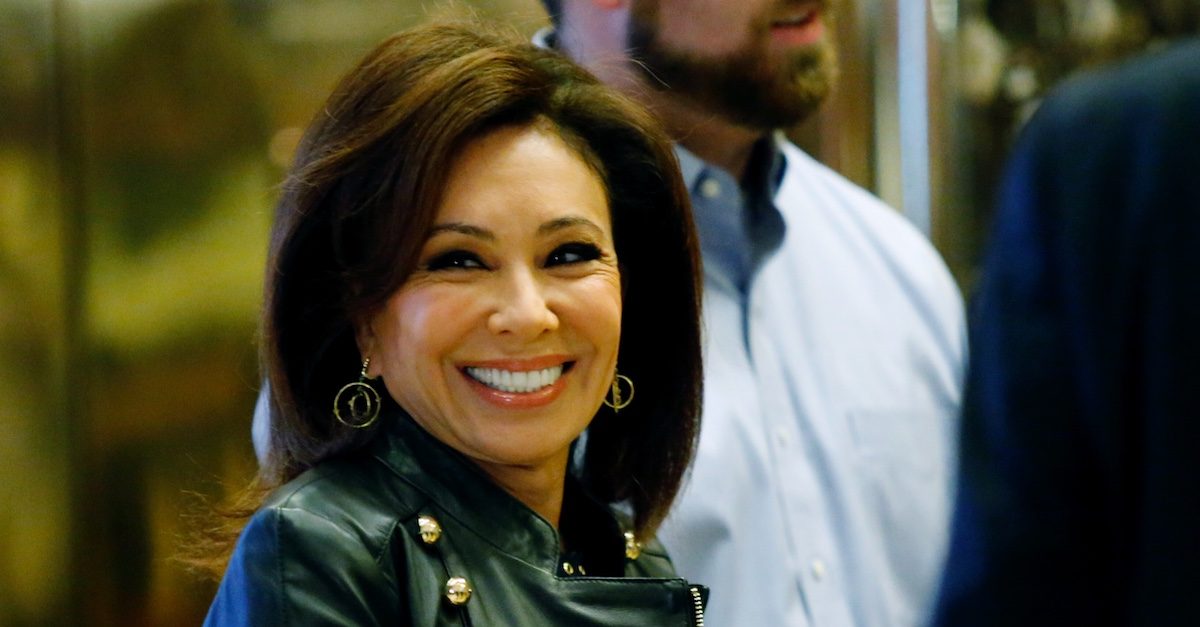 Fox News anchor Bret Baier congratulated his colleague Jeanine Pirro for her weekend show's ratings on Twitter today, just a couple weeks after a Muslim producer working for Baier publicly called out Pirro's Islamophobia on Twitter.
"Congrats @JudgeJeanine on a big Saturday ratings win," Baier tweeted this afternoon.
Congrats @JudgeJeanine on a big Saturday ratings win. https://t.co/juRrBr0jiH

— Bret Baier (@BretBaier) April 2, 2019
Early last month, Pirro received widespread condemnation for Islamophobic comments about Rep. Ilhan Omar (D-MN), in which she suggested the lawmaker cannot adhere to the U.S. Constitution because she wears a hijab.
"@JudgeJeanine can you stop spreading this false narrative that somehow Muslims hate America or women who wear a hijab aren't American enough?" tweeted Special Report with Bret Baier associate producer Hufsa Kamal Khan on March 10. "You have Muslims working at the same network you do, including myself. K thx."
A second Fox News producer, Dan Gallo, defended Kamal Khan after anti-Muslim pundit and Fox News regular Michelle Malkin ripped the Special Report employee for her tweets at Pirro.
Just so we're all clear: A person who regularly appears on Fox News, my employer, is attacking my colleague @hufkat on Twitter after her courageous stand against Islamophobia. @michellemalkin is doubling down on a statement that our employer called offensive. Vile. pic.twitter.com/JUTl8rGgoQ

— Dan Gallo (@dangallo) March 12, 2019
CNN host also Jake Tapper applauded Kamal Khan's call out.
This was an incredibly gutsy — and righteous — tweet to send. https://t.co/1Z2i8zgmhC

— Jake Tapper (@jaketapper) March 10, 2019
Pirro's hijab comments — mainly, her suggestion that Omar's religious views are "antithetical to the United States Constitution" — earned her a public denouncement from the network.
"We strongly condemn Jeanine Pirro's comments about Rep. Ilhan Omar," Fox News said in a statement. "They do not reflect those of the network and we have addressed the matter with her directly."
The host has had Islamaphobic issues in the past.
In 2015, Pirro was forced to correct false, Islamaphobic comments a guest made on her Fox News program.
"Last week on this program, a guest made a serious factual error that we wrongly let stand unchallenged and uncorrected," Pirro said regarding one of her segments labeling Muslim neighborhoods in Europe dangerous "no-go zones."
[image via DUARDO MUNOZ ALVAREZ/AFP/Getty Images]
Have a tip we should know? tips@mediaite.com