British Journalist Guy Adams Has Twitter Account Suspended After Criticizing NBC's Olympic Coverage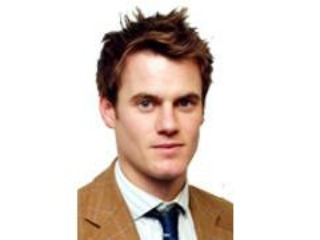 The Independent's Guy Adams had his Twitter profile suspended after having sent out numerous Tweets regarding NBC's coverage of the Olympic games. The official reason for his suspension, per an email from Twitter, was that Adams had posted "an individual's private information such as private email address, physical address, telephone number, or financial documents." The information in question appears to be an email address belonging to Gary Zenkel, president of NBC Olympics: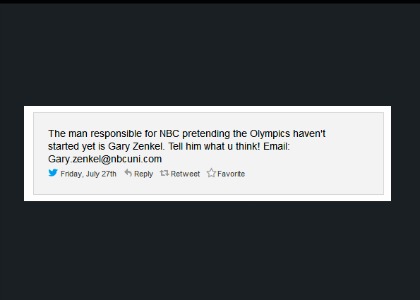 According to Mashable, however, Adams insists that the email address is a corporate, not a personal one, and as such should not be considered "private information." Here's his response to Twitter regarding the matter:
In addition to his various (and rather blunt) Tweets about the network's widely-criticized coverage of the games, Adams also published his thoughts in a piece for The Independent. Here's but a taste, where Adams accuses the network of eschewing quality, timely coverage of the games in favor of increased revenue:
At the centre of controversy was NBC's attempt to leverage maximum revenue from the Games, for which they paid almost a billion dollars, by foregoing live coverage of high-profile events. Instead, it intends to footage on time-delay during evening prime time, when brands will pay a premium to advertise.

The tactic may very well be the most lucrative for NBC, but it's the least satisfactory for viewers, and seems to blithely ignore the advent of the internet era.
You can still see Adams' Tweets via MuckRack. Below is his response to Twitter's head of PR in Europe:
Hi Rachel

They've dealt with this (see below). Would you mind if I give you a quick call to discuss? I'm of course happy to abide by Twitter's rules, now and forever. But I don't see how I broke them in this case: I didn't publish a private email address. Just a corporate one, which is widely available to anyone with access to Google, and is identical to one that all of the tens of thousands of NBC Universal employees share.

It's no more "private" than the address I'm emailing you from right now.

Either way, quite worrying that NBC, whose parent company are an Olympic sponsor, are apparently trying (and, in this case, succeeding) in shutting down the Twitter accounts of journalists who are critical of their Olympic coverage.

Am I to presume, for example, that they decided to complain about me because of my recent article in the Indy's news page about their various failures? (see link)

http://www.independent.co.uk/sport/olympics/news/as-america-succeeds-at-the-games-back-home-all-the-talk-is-about-nbcfail-7986147.html

And if so, isn't it a bit rum that they succeed in shutting down my account?

Either way, thanks for expediting all of this.

Yours,

Guy
And, no, as an ignorant American, I have absolutely no idea what "a bit rum" means.
h/t The Independent, Mashable
Have a tip we should know? tips@mediaite.com