Bronx Public Defenders Resign for Appearance in Music Video Calling for Cop Deaths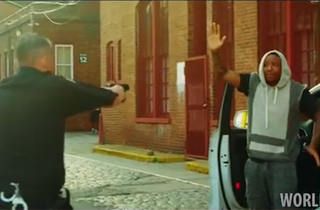 The two public defenders who drew outrage for appearing in a rap video calling for people to kill cops have resigned their positions, and their supervisor has been suspended for 60 days.
Ryan Napoli and Kumar Rao, two attorneys for the publicly-funded Bronx Defenders, stepped down after they showed up in a rap video called "Hands Up" made by artists Uncle Murda and Maino and containing the following lyrics: "For Mike Brown and Sean Bell, a cop got to get killed." (That's just one of the lyrics.) In addition, the name of the firm appeared in the video.
The New York Post reports that the firm's director, Robin Sterling, has also been suspended without pay and will be under close scrutiny upon her return for six months. "Any unsatisfactory performance by Ms. Steinberg during this period will result in her resignation," wrote the Office of Criminal Justice.
In a statement, Rao claims that participating in the video, which drew criticism from both police and the Mayor's office, was an "error in judgement" and that he had no idea that the video would contain lyrics advocating for cop-killing.
"As you know, I received assurances by the producer that we would be provided the opportunity to review and edit the lyrics and video before its release," he wrote. "Contrary to our understanding, the video that was released contained lyrics and images that I never approved and would never support, personally or on behalf of the organization. To say that I regret our involvement with this video would be an understatement."
[h/t Gothamist]
[Image via screenshot]
—
>> Follow Tina Nguyen (@Tina_Nguyen) on Twitter
Have a tip we should know? tips@mediaite.com