Brother of San Bernardino Shooting Suspect Arrested on Charges of Marriage Fraud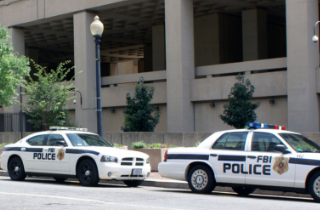 This morning, the FBI made three arrests on charges of marriage fraud, conspiracy, and lying to federal investigators. Among the three was the brother of San Bernardino shooter Syed Rizwan Farook.
His name is Syed Raheel Farook and he was arrested with his wife, Tatiana Farook and her sister Mariya Chernykh. The charges all focus on the marriage of Chernykh and Enrique Marquez, who has already been charged with aiding in the shooting that took place last December.
The L.A. Times reported that while investigating the shooting, the FBI found that Marquez got money to marry Chernykh, who was seeking a way to get legal status in the U.S. She was arrested for lying during a questioning. She claimed to live with Marquez, though she resides in Ontario.
When they realized the shooting would mean they were going to be investigated, Raheel Farook created a fake lease to make it look like the couple lived together. The couple staged photos and bought a wedding ring even though Chernykh continued to post photos of the father of her child on social media. Tatiana Farook told her she needed to stop doing that.
The three arrestees are expected in court today at 3:00 p.m. PST. They all face five years in prison for helping to make the marriage look legitimate. Chernykh could face an additional 25 years for charges of fraud, misuse of visas and other documents, perjury and two counts of lying to federal investigators.
[image via WikiMedia Commons]
For more from Lindsey, follow her Twitter or Facebook.
Have a tip we should know? tips@mediaite.com