BuzzFeed Editor-in-Chief Slams Daily Caller for 'Nativist Garbage' and 'Immunity to Shame' in Leaked Email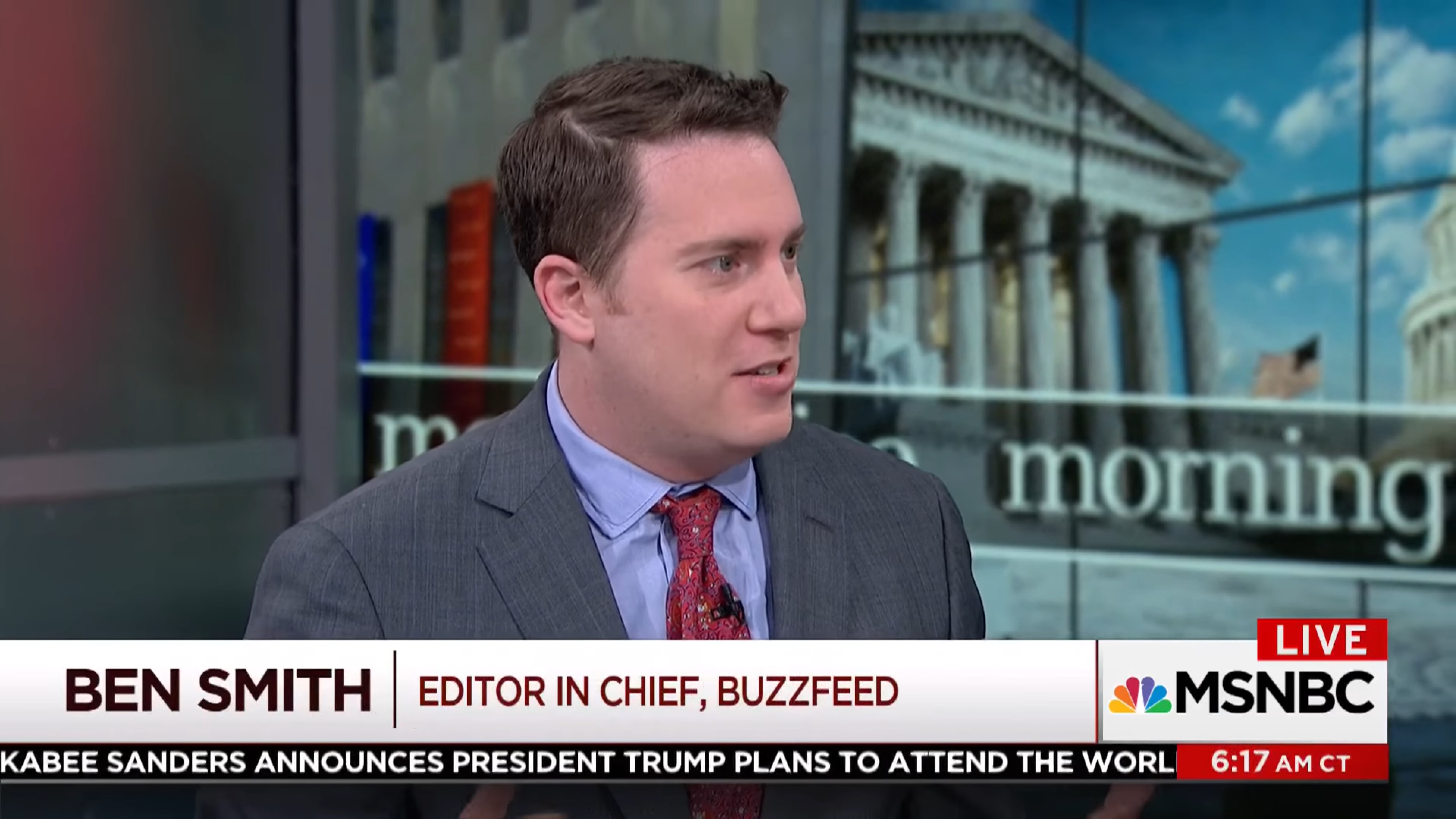 Tensions ran high at a Facebook meeting last week where the company sat down with a handful of news editors ahead its testimony before Congress today.
However, not everyone was happy with the list of invitees, one of whom included Daily Caller publisher Neil Patel.
BuzzFeed Editor-in-Chief Ben Smith was irked the outlet would even be represented at the meeting, his frustration being echoed by HuffPost Editor-in-Chief Lydia Polgreen, according to The Wall Street Journal.
Both expressed concern that the social media giant was treating the Daily Caller as a legitimate news outlet in an effort to be politically neutral.
Smith even took the matter up with Patel directly, clarifying his problems with him in a leaked email tweeted by BuzzFeed's own media reporter, Steven Perlberg.
More on the BuzzFeed News-Daily Caller beef. This is an email sent from @BuzzFeedBen to Neil Patel on Friday (Ben didn't leak it to me). pic.twitter.com/NgMWGG5qU9

— Steven Perlberg (@perlberg) July 17, 2018
In the message, Smith criticized the outlet for its lax treatment of "stealth and corporate propaganda," failing to remove it from the site then acting "more concerned with your image than the underlying issue" once it was revealed.
Pushing his rebuke of Patel even further, Smith called that "a baffling response that, unfortunately, comports with what I [have] seen in a lot (though certainly not all) of what you publish."
Smith didn't mince words, adding that his platform has hosted "nativist garbage" including a still uncorrected article implying Hillary Clinton's former campaign aide, Huma Abedin, was associated with the Muslim Brotherhood.
Concluding the email, Smith acknowledged that certain Daily Caller reporters produce good stories, but that he was surprised the editor was offended by his remarks about the site.
"I've always thought the Daily Caller's charm came from its immunity to shame," he said.
The Daily Caller editor-in-chief Geoffrey Ingersoll fired back on Twitter after the email was posted:
How dishonest, @BuzzFeedBen. I thought you breaking an off-the-record agreement to criticize our ethics was kind of funny, but making sure this misinformed pile of whiny dogshit pretending to be an email got to your reporter, that's another level of journalistic cowardice. https://t.co/T5pbcHs2GW

— Geoffrey Ingersoll (@GPIngersoll) July 17, 2018
.@BuzzFeedBen
Let's address

1. The whole thing starts when BuzzfeedBen rather obliviously insists that the Daily Caller shouldn't be in a Facebook meeting because there's no one 'left enough' to counter. HuffPo agrees, as does Vox(ish). Irony is not their strong suit, clearly.

— Geoffrey Ingersoll (@GPIngersoll) July 17, 2018
2. Ben Smith then talks to the WSJ, breaking an off-the-record agreement, to criticize our journalistic ethics. Again, not a hint of irony.

3. The kicker: Somehow a Buzzfeed reporter gets his hands on a Ben Smith email, & publicly insists it didn't leak from Ben Smith. Seriously

— Geoffrey Ingersoll (@GPIngersoll) July 17, 2018
As for the content of Ben's email, ironically, much of it is out of context or plain projection.

1. "Corporate payola" wasn't payola, but Ben didn't mind the inaccuracy. Speaking of payola, Ben prbly made a ton of money off Zuckerberging his site's users. https://t.co/4ezz8fhejQ

— Geoffrey Ingersoll (@GPIngersoll) July 17, 2018
While I would expect that of a political operation or a social media giant, I wouldn't expect that of someone who speaks in such vaunted terms about media ethics.

2. The mid-level employee was actually a front page editor. Nuff said. What did Ali Watkins do for you again?

— Geoffrey Ingersoll (@GPIngersoll) July 17, 2018
Not that I want to keep stripping bacon off your back, since I think you are an embarrassment to men everywhere with this sideways crap … but

3. Can Ben find a single example of the Caller taking a position on any political issue? He personally has had no problem doing it.

— Geoffrey Ingersoll (@GPIngersoll) July 17, 2018
– Ben Smith does cutesy PR video of Obama
– Ben Smith decides it's editorially feasible to refer to Trump as a "racist"
– Ben Smith decides to block RNC ads on Buzzfeed (while quietly leveraging users to benefit a different political party)

— Geoffrey Ingersoll (@GPIngersoll) July 17, 2018
@BuzzFeedBen, dude, you have zero right to question our journalistic integrity, you are, at best, on the same level + cats. I honestly, legit, do not think you actually believe the shit you are pushing. You just don't like us. It's fine.

— Geoffrey Ingersoll (@GPIngersoll) July 17, 2018
Speaking of kickers, I'm dead.

That Ben Smith would reference a Robert E. Lee OPINION piece, when his own site followed up "37 Things White People Ruined This Year" with, no shit, "37 Things Black People Need To Stop Ruining In 2018" https://t.co/ewWPhIkAMJ

— Geoffrey Ingersoll (@GPIngersoll) July 17, 2018
All this to say: I have a lot of respect for the stuff Buzzfeed News has done, I know a few staffers, I like them all. I'm not sure why Ben has such a hard on other than he disagrees with us politically. I just wish he would be honest while he's doing it.

— Geoffrey Ingersoll (@GPIngersoll) July 17, 2018
[Image via screengrab]
Follow Amy Russo on Twitter: @amymrusso
Have a tip we should know? tips@mediaite.com