BuzzFeed Reporters Not Impressed by White House's Obamacare Pitch on BuzzFeed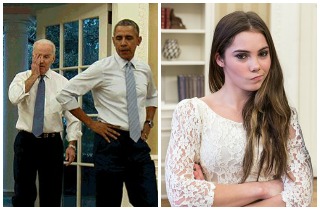 With the elusive deadline to enroll in the Affordable Care Act reportedly nearing, pending the whimsy of the Obama administration, ACA supporters in the White House are scrambling to enroll as many young, healthy individuals into the insurance exchanges as possible in order to ensure that they remain actuarially sound.
In pursuit of that project, the president and his team have taken their pitch to every venue where their sophisticated demographic research suggests the young people are; Funny or Die, professional sports programs, and Ryan Seacrest's radio program, to name just a few.
RELATED: White House's March Madness-Themed Obamacare Pitch Is a Circus
The latest site in which the White House has decided to drag the tired appeal to purchase health insurance is BuzzFeed. There, the representatives of the leader of the free world transformed themselves into community contributors slash insurance salesmen. The post consists of a variety of .gifs of Vice President Joe Biden performing menial tasks. The message couldn't be any clearer: get covered.
"Because it could literally save your life," the White House warned. The gravity of that message might be slightly undercut, however, by fact that it was delivered in the form of a listicle featuring Biden making funny faces.
BuzzFeed's crack reporting staff was appropriately puzzled by the administration's scattershot effort to appeal to young people:
I give this BuzzFeed post by the White House a B http://t.co/irccm8Occq

— Andrew Kaczynski (@BuzzFeedAndrew) March 27, 2014
White House's BuzzFeed Community post pushes ppl to sign up for ACA by 3/31, doesn't mention new extension http://t.co/qGfUXajD4T

— E McMorris-Santoro (@EvanMcSan) March 27, 2014
that strange cracking sound you just heard was the White House joining BuzzFeed Community http://t.co/KKUuBEz0RB

— E McMorris-Santoro (@EvanMcSan) March 27, 2014
Um not sure this is going to do the trick. How about that sit-down interview @vp? http://t.co/TIBCGCKznm

— Ben Smith (@BuzzFeedBen) March 27, 2014
So, maybe this was a bit of a misfire, but there's always next time. And, pending further ACA delays, a time after that. And probably a time after that…
[Photo via The White House/Pete Souza]
— —
> >Follow Noah Rothman (@NoahCRothman) on Twitter
Have a tip we should know? tips@mediaite.com