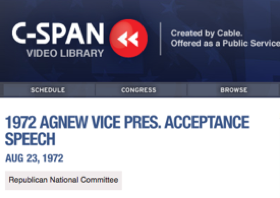 C-SPAN has completed arguably the most exciting academic task since the founding of Wikipedia: they have uploaded 23 years of their video archives to a free, user-friendly database online. It's a landmark in government transparency and a godsend to anyone embarking on an American history research project. And even more importantly, the release of this raw data means that, at least for modern history, social studies textbooks are now rendered useless, making the current conservative-led debate to have parents monitor the content of said textbooks unnecessary.
The database is assembled by program, topics, date, and personalities in them, so if you vaguely remember watching something interesting on Book TV last month (you don't, but bear with me here), you can simply browse last month's episodes of Book TV. It is even more useful if you're researching a certain American political personality and want to find when they were most active on C-SPAN over a span of time, or just watch the person in action if you've only had the chance to read up on them. For example, say you overheard something about Richard Nixon and it got you curious to watch some of the footage of his last years in office. Simply search his name and click on his profile page, and all his appearances in the archives (mostly television but some radio addresses) are neatly organized by year. It's a researcher's – and a political nerd's – dream come true. There's even a transcript library for those who need the text in print.
But the impact of having such a free online database goes well beyond political science research libraries and the home computers of all three of America's Spiro Agnew enthusiasts. The fact that 23 years of video footage of America's history is accessible online for free at an age where most Americans have access to the Internet renders the entire debate in Texas over the content of textbooks obsolete. Teachers now have access to a library of raw data with which they can enhance their lessons, and if they don't, students don't need their teachers' permission to do a quick fact-check.
Plus, most students in the YouTube era prefer watching history to reading it, so the chances of them taking five seconds to find a video of Ronald Reagan joking around about invading the USSR are much higher than the chances of them taking an hour or two to read the Reagan chapter conservatives in Texas are so afraid of them happening upon. C-SPAN has provided students an avenue both of objective history and of instant academic gratification, and given this alternative, most will be hard-pressed to take a second look at the books their parents are currently warring over. As the pool of information widens and becomes more organized, there will come a time when textbooks will have little to no place in the classroom at all. The classification of facts will be so sophisticated that it will take such little effort to wade through enormous amounts of information there will no longer be the need for someone to do it for students by way of a book. So while a five-hour congressional session from 1967 may not be interesting in and of itself, the shift to film and digital media is fascinating.



Have a tip we should know? tips@mediaite.com