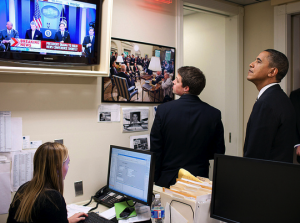 Aside from the one-man birther extravaganza that was Donald Trump, who pushed the birther story hardest? According to data from the Pew Project for Excellence in Journalism reviewed by the Poynter Institute's Julie Moos, MSNBC had the most coverage, far ahead of Fox or CNN. "While MSNBC's coverage may have been devoted to questioning or debunking the president's citizenship issues, that network spent the most time discussing it," said Moos.
According to the data, MSNBC devoted ten percent of its airtime last week to President Obama, and fully 92 percent of that was "airtime coded 'citizenship and religion rumors' and 'birther' coverage." By comparison, CNN and Fox devoted just five percent of their airtime to the president. Of that, PEJ says CNN's coverage of the president was 100 percent devoted to "citizenship and religion rumors," while Fox's coverage was only eight percent.
Mark Jurkowitz, associate director of PEJ says MSNBC consistently devotes more of its airtime to politics, based on PEJ's research, while CNN generally spends the least amount of time on politics of the three cable networks.
Moos' reporting also found the President was way off when he said today that "the dominant news story wasn't about these huge, monumental choices that we're going to have to make as a nation. It was about my birth certificate." According to the PEJ figures, only four percent of coverage overall involved the birther question. The biggest story of the period surveyed was the economy, at 39 percent.
The full report can be found here.
Have a tip we should know? tips@mediaite.com