Campaign Event Table Settings Wage Jihad Against Rick Santorum's Paper Product Metaphor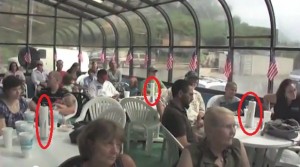 GOP presidential contender Rick Santorum continued to obsess over paper products (with a name like Santorum, can you blame him?) at a campaign stop in Spartanburg, SC, and accused the gay community of going on a "jihad" against him over the issue of gay marriage, in much the same way that Evander Holyfield's ear once went on a jihad against Mike Tyson's teeth. Poor Santorum can't catch a break, though, as every table in the joint offered a visual rejoinder to his napkin/paper towel analogy.

Speaking from what appears to be the 8/23 Memorial Resin Furniture Solarium, Santorum continued to preach his napkin/paper towel sermon like a sitcom character who doesn't realize his catchphrase sucks:
"This is a napkin. A napkin is what a napkin is. It isn't a paper towel. It isn't a car. You can call a napkin a car, but it doesn't make it a car. You can call a paper towel a chair, but it doesn't make it a chair. Marriage is what marriage is. It existed before there was the English language or a state."
While his reality-defying, self-pitying, third-person declaration that he is the victim has been getting all of the attention, the hilarious devil is in the details of this clip. As Santorum testifies about the unbending essence of paper towels and napkins, take a look at what sits in front of every cheering audience member:
There's no way to confirm this, but I bet there was a fleet of napkin-cars out in the parking lot, as well.
As much fun as it is to watch Santorum get punk'd by his own surroundings, his man-on-dog arguments are annoyingly persistent among those looking for an excuse to perpetuate inequality (I do wonder what Santorum's secret is for obtaining consent from a dog). I've had this exact argument many times with my colleague Les Kinsolving, among others, and it just gets exhausting after a while. MSNBC's Ron Reagan recently gave as succint and effective rebuttal to his tired arguments as I've heard, so I'll let him have the last word. Call it a napkin, or a paper towel, but either way, Reagan does a great job of cleaning up that puddle of Santorum on aisle 4:
Have a tip we should know? tips@mediaite.com