Campbell Brown Defends Careers Of Political Pundits With Personal Links To Campaign Professionals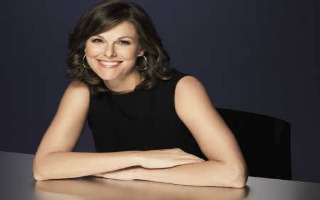 Former CNN anchor Campbell Brown penned an opinion piece for Slate Magazine in which she relates her experience writing opinion columns even though her husband is a senior advisor to Mitt Romney's presidential campaign. She writes that there are many opinion writers and pundits on television with links to the political industry through their family, but that should not take anything away from their work. That is, as long as those pundits disclose their relationships to their audience.

RELATED: On Morning Joe, Campbell Brown Explains Why 'Teachers Unions Go To Bat For Sexual Predators'
Brown, whose husband, Dan Senor, is an advisor to Romney's campaign and works closely with vice presidential candidate Paul Ryan, discloses her relationship with her husband in every opinion piece she writes.
She advises a number of her colleagues to do the same, although she concedes those journalists with daily television jobs would be hamstrung having to disclose their personal relationships on an hourly basis.
Brown writes that there are a number of accomplished pundits with personal links to political professionals, but those relationships do not detract from their analysis.
She notes that NBC News' White House correspondent Chuck Todd is married to a Democratic consultant in Virginia and MSNBC host Andrea Mitchell is married to former Federal Reserve Chairman Alan Greenspan. Morning Joe co-host Mika Brzezinski's father was President Jimmy Carter's national security advisor and has two brothers in politics, one working for Democrats and the other for Republicans. Fortune Magazine's Nina Easton discloses that her husband is a consultant for Romney's campaign nearly every time she opines on a political issue.
Brown notes these opinion leaders and reporters do great work. She says she finds it lazy for some to dismiss the views of pundits or observers simply because they are closely associated with a campaign staffer in their personal lives.
Here is the truth: To assume that someone's views are invariably influenced or shaped by his or her partner is lazy. It is an intellectual crutch we grope for when we do not have an effective counter to someone's argument. In my limited experience writing opinion, smart people have challenged me with a reasoned response pointing out the weaknesses of my argument. The less intellectual partisans say, all full of ire, "She's married to a Romney guy".
Brown concedes that married partners will invariably share some commonality, but they also challenge each other's assumption and learn from one another – "and spend the rest of the time talking about the kids."
She advocates that all members of the media with personal links to political professionals disclose those relationships. Otherwise, they give their opponents an easy way to dismiss their arguments.
Brown recalled her recent opinion piece in the New York Times in which she was critical of President Barack Obama's campaign leveraging the "war on women" theme against Republicans. She said that much of the criticism she received was from people who did not read the article and were merely upset that she was giving voice to sentiments that could be shared by members of the Romney campaign, including her husband. She blames herself, though, for disclosing her relationship with Senor towards the middle of the piece rather than at the top.
Brown concludes the article by disclosing some of the many arguments that she has with her husband, including their disagreement over the importance of the finance industry, their favorite East Coast football teams and the Simpson-Bowles tax commission recommendations.
"Dan is obviously voting for Romney. I supported Obama in 2008," Brown writes. "This year I am voting for… Some things we should be able to keep to ourselves."
h/t Slate Magazine
> >Follow Noah Rothman (@Noah_C_Rothman) on Twitter
Have a tip we should know? tips@mediaite.com