Can We Get the Councilman's Handcuffs Removed So We Can Swear Him in, Please?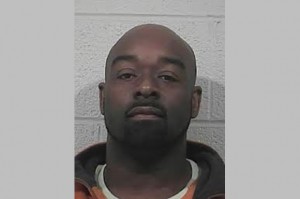 In the state of Indiana, it's hard to imagine that city officials have ever had to do what they did on Friday: actually swear in an elected City Councilman while he sat behind bars on murder and drug charges.
That's the exact situation unfolding with Democrat Robert Battle, who won his reelection campaign in November, despite having just been arrested on charges from the federal government. He was sworn in from behind bars at Porter County Jail.
In September, Battle was arrested on a charge of marijuana possession after law enforcement stopped him for speeding in a construction zone and found 40 grams of pot in his vehicle.
A month later, Battle was charged in the shooting death of Reimundo Camarillo Jr. on October 12, 2015. The Lake County Sheriff John Buncich called for Battle to resign, telling the press, "The right thing to do at this time would be to resign, step aside so the East Chicago citizens in the third district can be represented properly."
"It's wrong for the taxpayers, wrong for our party… I can't remember a situation like this," Sheriff Buncich continued.
However, Battle did not remove himself from office, and still by law will continue to earn his $42,365 salary until he either resigns or admit his guilt. As of now, Councilman Battle has maintained his innocence. According to the Chicago Tribune, his trial is scheduled for August.
Correction: in an earlier version of the story, we incorrectly identified that Councilman Battle was from Chicago rather than Indiana. We have corrected the details in the version above.
[image via Lake County Sheriff's Department]
[h/t Chicago Tribune]
—
J.D. Durkin is the Senior Editor of Mediaite. You can follow him on Twitter @MediaiteJD.
Have a tip we should know? tips@mediaite.com