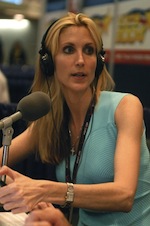 Ann Coulter is gearing up to speak on three campuses in our neighboring country to the north, of which she once said, "They are lucky we allow them to exist on the same continent." But before she steps foot on Canada's snowy surface, the University of Ottawa's administration has advised the outspoken conservative pundit to check herself before she…well, you know the rest.

In an email to Ms. Coulter obtained by The National Post, Ottawa's vice-president and provost Francois Houle warned the Fox News contributor and author to exercise "restraint, respect, and consideration" while talking to a student body that's already begun to protest her arrival. The message continues:
"You will realize that Canadian law puts reasonable limits on the freedom of expression. For example, promoting hatred against any identifiable group would not only be considered inappropriate, but could in fact lead to criminal charges. Outside of the criminal realm, Canadian defamation laws also limit freedom of expression and may differ somewhat from those to which you are accustomed. I therefore ask you, while you are a guest on our campus, to weigh your words with respect and civility in mind."
Oh good, a First Amendment issue that you can expect all parties involved are going to draw lines in the sand about during Coulter's trio of appearances. Although it does seem a little one-sided that a student body can actively bar volunteers from putting up posters for Coulter's engagement, and the notoriously provoking pundit is the one can chastised for lack of restraint and respectfulness. We sure hope somebody in the audience tapes these appearances: they are bound to be quite a show.
Have a tip we should know? tips@mediaite.com