Candidate For School Board in FL Deletes Twitter After Calling ABC's Sunny Hostin 'Racist C***'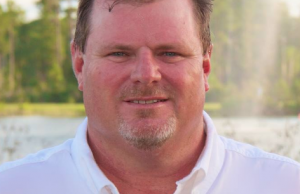 Florida is a weird place. Sometimes, couples sue their towns for the right to grow veggies in their front lawns. Other times, men who tweet that Sunny Hostin — journalist and Senior Legal Correspondent & Analyst for ABC — is a "racist c***" run for the school board years later, delete their Twitters, and then insist that nameless friends take their phone and tweet from their account sometimes.
Seriously, look at this report from the Napes Daily News. A white guy named Lee Dixon sent the tweet about Hostin in 2013 when she was being vocal about the shooting of Trayvon Martin, but this is what he said about it now:
I'm going to take responsibility for the tweet. I personally didn't send it. It was sent from my account by a person sitting next to me, but I take full responsibility. It's inappropriate. I wasn't raised that way. I'm a standup individual. It has nothing to do with today.
Surely, parents of young girls or kids of color who attend school in District 4 will argue that his tweet does have something to do with today.
When asked why he deactivated his account, he responded, "I've seen stories in the past about people getting inundated with nasty tweets and comments. I took it down because I didn't want to deal with that."
Know who else "didn't want to deal with that" brand of "nasty tweets and comments"? Hostin, who used her own Twitter to refute Dixon's claim that he had apologized to her.
Untrue @leedixon2016 who is running for school board position in Naples, FL apologized to me on Twitter after calling me a "racist c..t"

— Sunny Hostin (@sunny) June 9, 2016
He called me the "c" word. Is this someone that should be making decisions about the welfare of children?? https://t.co/12XUCHISG7

— Sunny Hostin (@sunny) June 9, 2016
There is no word on whether he'd prefer to avoid "nasty tweets and comments" from Kim Kardashian, about whom Lee tweeted, "for me it's because her incredibly gigantic fake ass is not attractive." There is also no word from the geriatric community, at whom he directed a tweet about Costco that said, "Holy shit. Aren't these blue hairs supposed to be at their cardiologist or getting a hip replaced this time of day?"
Ultimately, he tried to laugh off the tweets, saying, "We're all sinners."
Sure, but we don't all tweet misogynistic, sexist things at people and then not think to, at the very least, delete the posts before running for elected office.
[image via Facebook]
For more from Lindsey, follow her on Twitter or Facebook.
Have a tip we should know? tips@mediaite.com