Carl Bernstein Refutes Trump: There's 'No Way' Clinton's Email Review is Bigger Than Watergate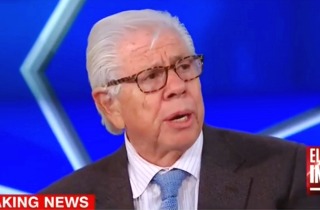 One of the reporters who played a central role in breaking Watergate says that Donald Trump is incorrect in comparing the scandal to the saga of Hillary Clinton's private server.
Carl Bernstein was on CNN Friday night, and he talked about FBI Director James Comey's letter stating that new emails with relevance to Clinton were found on a device belonging to Huma Abedin. While Trump seized on the news and compared Clinton's conduct to the scandal that took down Richard Nixon, Bernstein said there's "no way" that characterization is right:
"Watergate was about a criminal President of the United States who presided over a criminal administration from the day he took office to the day he left," Bernstein said. He went on to say that its unwise to jump to conclusions without more details, even though it's "hugely serious" development that shows how Clinton was "clearly reckless."
Bernstein defended his position further on Saturday with a couple of tweets:
No way HRC emails 'bigger than watergate' -or close. Watergate was about a criminal Potus & 48 aides/co-conspirators found guilty.

— Carl Bernstein (@carlbernstein) October 29, 2016
Not to minimize her reckless and mendacious handling of email-server matters –but altogether different league than watergate.

— Carl Bernstein (@carlbernstein) October 29, 2016
This view was also backed up today by Nick Akerman, who served as assistant special prosecutor during the Watergate controversy. In an exchange with a reporter, Ackerman said that Comey "acted totally inappropriately" by sending Congress such a vague letter so close to Election Day.
"There is no evidence of any violation of law," Ackerman said. "For Trump to reach that conclusion based on a total lack of evidence is reminiscent of the innuendo spread by Joseph McCarthy in the early 1950s."
[Image via screengrab]
— —
>> Follow Ken Meyer (@KenMeyer91) on Twitter
Have a tip we should know? tips@mediaite.com