Carl Paladino Has Now Pissed Off The Only Paper That Might Have Been Good To Him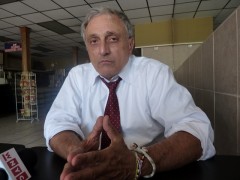 I think this may be the media equivalent of "I'm going to take you out." In response to last night's confrontation between Carl Paladino and longtime New York Post politics writer Fred Dicker Post editor Col Allan is pushing back. Hard. Some background: After the dust-up Paladino campaign manager Michael Caputo insisted it had been instigated by Dicker sending photogs to Paladino's 10 year-old daughter's house to snap surreptitious photos of her.
"Paladino spokesman Michael Caputo's claim about our photographer is untrue. We can only assume Mr. Caputo is confusing our photographer with someone else. Mr. Caputo should check his facts before making charges against Post personnel. In addition, Mr. Paladino should not be surprised by the media's interest in his families, as he has invited public scrutiny of his personal life by running for governor and speaking openly about his mistress and love child."
I think Paladino can wave goodbye to any supportive Post coverage or Post covers that may have been coming his way, which was, as Politico's Maggie Haberman points out, Paladino's "best chance at getting some love from in the general election." Apparently he doesn't care. More from Caputo
"The Post photographer and a reporter lurked outside the home of Carl Paladino's daughter. The shooter took photographs of the home. He pointed his lens through the window. He chased Carl's daughter to a playground, even forcing her to run across a road dodging traffic. Fred Dicker is responsible for assigning the photographer to take photos of Carl's 10-year-old daughter and I have that on confirmation of two Post employees…Fred Dicker is a mouthpiece for Andrew Cuomo, a man who is afraid to give the people the debate they deserve. His actions show his clear bias. Show me one reporter in the Capitol who would stand in Fred's defense and I'll show you someone who just got the job."
I think that's what called scorching the earth. A couple of things. The genius of the Tea Party ethos is that Paladino can do this sort of thing and then work it into an ad campaign/platform that will likely gin up support. During a discussion on WNYC this morning about the Dicker showdown it was noted that just as many people were in favor of Paladino's response as against. Secondly, there is some pretty stunning irony in the idea that the Tea Party may be coming back to bite the Post. More than one person attributes the rise of the Tea Party to the support it received from various News Corps outlets, of which NYP is obviously one. Get ready for a series of Paladino 'exposes' New York Post style.
Have a tip we should know? tips@mediaite.com