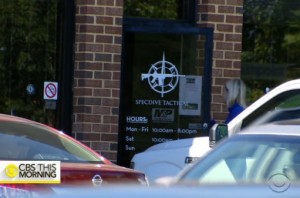 After CBS News ran a segment showing how easy it is to legally obtain an AR-15, the gun store featured in the story filed a complaint with the Bureau of Alcohol, Tobacco, and Firearms alleging they broke federal law.
The store, SpecDive Tactical, alleges that CBS News' Paula Reid purchased the rifle claiming that it was for her own use. But according to CBS, "The rifle we purchased was legally transferred to a federally licensed firearms dealer and weapons instructor in Virginia, just hours after we bought it."
SpecDive Tactical's general manager Ryan Lamke points out that sounds a lot like a straw purchase. "When you knowingly attempt to purchase a firearm with the intent of giving it to another person, you are trying to bypass the legal pathway to firearms ownership," he told the Washington Free Beacon. "This, in itself, is a very serious crime."
Reid defended her actions on Twitter after the Free Beacon report went up on Friday:
Sale, purchase, & transfer all legal. ID'd myself as a @CBSNews reporter 2x during sale (was recorded) & transfer. https://t.co/ifYtFA4n8x

— Paula Reid (@PaulaReidCBS) June 17, 2016
ATF has acknowledged that they received Lamke's report, but says it is "not evident if a violation occurred… In the event that an investigation is initiated, as a matter of policy, ATF does not comment on or acknowledge ongoing investigations."
(UPDATE 2:34 PM ET) CBS issued the following statement: "This story was reported lawfully and in accordance with CBS News' standards."
Watch above, via CBS News.
[Image via screengrab]
——
>>Follow Alex Griswold (@HashtagGriswold) on Twitter
Have a tip we should know? tips@mediaite.com