CBS News Reporter: White House Aide 'Screamed And Cussed At Me' Over Fast And Furious Questions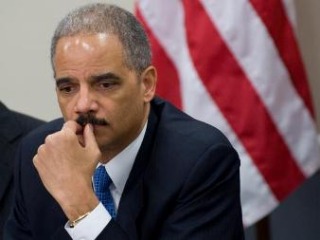 On her show this afternoon, radio host Laura Ingraham spoke with CBS News investigative journalist Sharyl Attkisson, who has been reporting on the "Fast and Furious" gun scandal, trying to find who, exactly, within the Justice Department knew about the failed operation.
And she's been hitting some roadblocks.
Previously, Congress had asked Attorney General Eric Holder [pictured] about his knowledge of the program, and were told that he'd heard about it for the first time "over the last few weeks." Attkisson's report, however, has turned up memos and briefings sent to Holder's office about the very program he professes to have only heard about recently… dating from as far back as July of 2010. Although there exists a chance that Holder could very well have not read those documents, Attkisson concedes, that would be different than not having heard about Fast and Furious at all until quite recently.
She called the Justice Department in an attempt to obtain an explanation, in writing, regarding Holder's statements, but says that the woman she spoke to was unhelpful and is apparently trying to explain Holder's comment as referring specifically to the Fast and Furious controversy — which has indeed unfolded "over the last few weeks" — rather than the project itself.
Attkisson explains the backtracking that has taken place since Holder's initial comment:
In between the yelling that I received from Justice Department yesterday, the spokeswoman –who would not put anything in writing, I was asking for her explanation so there would be clarity and no confusion later over what had been said, she wouldn't put anything in writing — so we talked on the phone and she said things such as the question Holder answered was different than the one he asked. But he phrased it, he said very explicitly, "I probably heard about Fast and Furious for the first time over the last few weeks."
And that was not the only roadblock Attkisson has encountered while trying to find out who, exactly, knew what about this project, and when they knew it. As she tells it, the White House hasn't been too forthcoming either:
Well the DOJ woman was just yelling at me. The guy from the White House on Friday night literally screamed at me and cussed at me. … Eric Schultz. Oh, the person screaming was [DOJ spokeswoman] Tracy Schmaler, she was yelling not screaming. And the person who screamed at me was Eric Schultz at the White House.
Mediaite reached out to Schultz for comment, but have not heard back from him at the time of posting. When and if he responds, however, we'll update and let you know.
Have a listen to the full interview, courtesy of The Laura Ingraham Show:
Have a tip we should know? tips@mediaite.com