Cell Phone Butt Dial Leads To Hilarious (For Us) 30-Person SWAT Team Intervention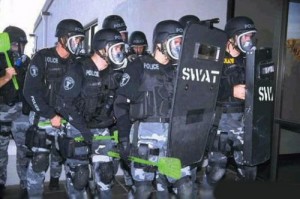 Yesterday in Winnetka, Illinois, a 30-person SWAT team crashed into a middle school to save an employee. His wife had frantically called the police after a garbled phone call led her to believe he had been kidnapped. However, they soon discovered that the man had just accidentally "butt dialed" her while listening to music and was completely fine. Yes, this story is basically what would happen if Clark Griswold had a cell phone.
It all started because the employee (who, unsurprisingly, is attempting to avoid the press at this point) was listening to a rap song in his car when his phone accidentally dialed the wife at home. The lyrics, which have been described by the school's co-superintendent as "gangster-like" scared her and she quickly dialed 911. Soon, there was quite a stir outside of the building.
From the Chicago Tribune:
"About 500 seventh- and eighth-graders attend the middle school, but they had left for the day when the call was placed.

The incident caused quite a stir in the usually quiet Winnetka neighborhood. The massive police presence interrupted a closed-door school board meeting, where directors were debating whom to hire as the next superintendent. Outside the building, a crowd of worried residents started to gather.

Police officers were stationed near each entrance to the school and at a nearby bus stop. Those inside the building carried shields and guns and wore helmets with face shields.

At one point three news media choppers hovered overhead."
Seriously, if we saw this in a movie we'd think it was too contrived. But it actually happened. Yikes.
Remember, folks: key lock your phones!
(h/t Pat's Papers)
Have a tip we should know? tips@mediaite.com