CEO Of Largest Private Prison Corporation Says He'll Be 'Just Fine' With Trump or Clinton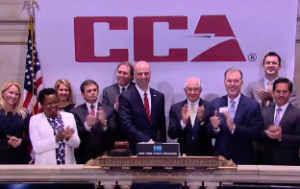 You probably have some friends who say something to the effect of, "It doesn't matter who becomes President because they're really all the same." That sort of jaded thinking represents the distrust that has propelled outsiders like Donald Trump and Bernie Sanders to the tops of polls over the last few months, but never has it been as ominous as when the CEO of the largest private prison corporation in the country said it.
Damon Hininger, the chief executive of Corrections Corporation of America, put it just like this:
If we continue to do a good job on the quality, and with that, we can demonstrate savings both on capital voids, but also cost savings in our services, then I think we'll be just fine … I think about the next President, whoever that is, if it's Hillary Clinton or if it's Donald Trump, there's be going to be so many things that he or she are going to have to deal with next year or next administration, both nationally and internationally, that I think having a view on our business, our industry is going to be really, really low on the priority list.
His comments were made June 8, according to the Intercept, which was about two weeks before Mother Jones released a damning inside look at his very corporation. In March, Clinton announced that she would look into ending for-profit prisons altogether, but it doesn't look like Hininger is afraid of that at all. As he said, it's his belief that looking into the potential infractions and human rights violations uncovered by Mother Jones and others "is going to be really, really low on the priority list."
[image via screengrab]
For more from Lindsey, get to Twitter or Facebook.
Have a tip we should know? tips@mediaite.com