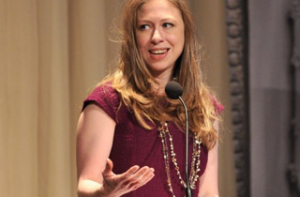 Over at The Post's Page Six, Richard Johnson is doing the Lord's work. He carefully compiled some quotes from a source who was in attendance at a recent Hillary Clinton campaign event, giving special attention to what daughter Chelsea Clinton had to say about the family's faith.
Ahead of the primary in South Carolina, all of the candidates will be ratcheting up their ecclesiastical declarations, but some have been hitting that particular talking point for some time. The Clinton family must be feeling the pressure to catch up.
According to Johnson, the youngest Clinton said, "My mother is very deeply a person of faith. It is deeply authentic and real for my mother, and it guides so much of her moral compass, but also her life's work."
The Democratic presidential nominee was raised Methodist, while husband and former president Bill Clinton was raised Baptist. Their daughter married a Jew, just like Democratic rival Bernie Sanders. There are a variety of religions and affiliations represented in the family, just as in politics, and, more broadly, in America itself. The Clintons are tired of having to defend themselves when "people who are self-professed liberals kind of look askance at [the] family's history."
As for her own beliefs, the pregnant Clinton said the following:
I was raised in a Methodist church and I left the Baptist church before my dad did, because I didn't know why they were talking to me about abortion when I was 6 in Sunday school — that's a true story.
This is not the first time that the Clintons' faith has been questioned. In fact, an in-depth piece on the subject was published by Mother Jones in 2007. The then-senator was quoted as calling her faith "very serious" and calling for leaders to "inject faith into policy."
Amen.
[image via screengrab]
For more from Lindsey, follow her on Twitter.
Have a tip we should know? tips@mediaite.com