Malik Bryant, a 13-year-old resident of a high-crime neighborhood in Chicago, wrote a letter to Santa this season via DirectEffect Charities. His wish: "All I ask for is for safety. I just wanna be safe":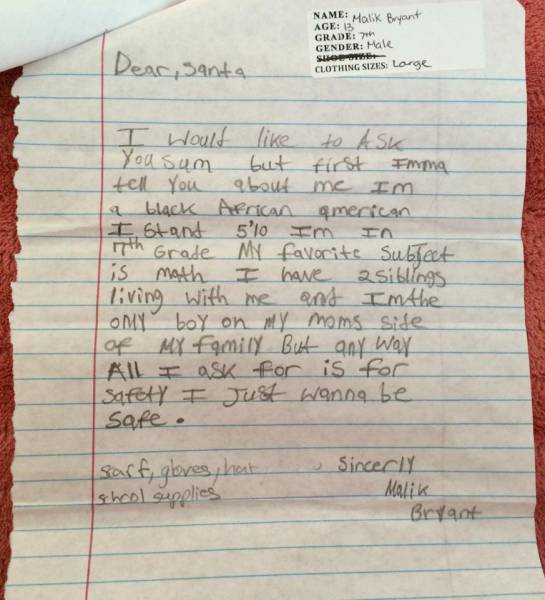 The non-profit organization takes the letters and distributes them to people who in turn help purchase the gift. But Malik's request for safety caught the eye of the charity's CEO Michelle DiGiacomo, who endeavored to get it seen by the President of the United States, Santa Claus of the Nanny State. DiGiacomo sent the letter to Rep. Michael Quigley (D-IL), who passed it on to the White House.
Sure enough, Malik received a certified letter around Christmas, and opened it to find a response from President Barack Obama.
"I want to offer you a few words of encouragement this holiday," the letter began. "Each day, I strive to ensure communities like yours are safe places to dream, discover, and grow. Please know your security is a priority for me in everything I do as President. If you dare to be bold and creative, work hard every day, and care for others, I'm confident you can achieve anything you imagine . . . and I will be rooting for you."
"I know the president's letter isn't going to like solve the safety reasons out here; it's still be dangerous," Malik told the Chicago Sun-Times. "But I'm excited the president of the United States wrote to me, and I can't wait to show it off."
Watch Malik read the letter below, via the Chicago Sun-Times:
[h/t Chicago Sun-Times]
[Image via DirectEffect]
——
>> Follow Evan McMurry (@evanmcmurry) on Twitter
Have a tip we should know? tips@mediaite.com